Problem solve
Get help with specific problems with your technologies, process and projects.
IPv6 protocol, Windows Vista features simplify peer ad-hoc networking
Based on IPv6 protocol principles, Microsoft built features into Windows Vista that make peer ad-hoc networking simple to set up and effortless for network users.
Some believe peer networking has no place in the enterprise. In actuality, it's becoming increasingly more common to have peer groups within a domain network; allowing users to collaborate with each other in small groups, while still remaining a part of the managed network.
Forming such groups in a corporate environment is a fairly simple process. Historically, however, collaboration between users has been a lot trickier when those users are outside of the office. The problem with peer networking outside of a corporate network is that there is no central mechanism for managing shared resources. For instance, there is no Dynamic Host Configuration Protocol (DHCP) server in an ad hoc environment, so users may end up with mismatched IP address ranges, or with none at all. Likewise, there is no DNS server that matches resource names to IP addresses.
Microsoft addressed these issues through the use of the IPv6 protocol, which is enabled by default in Windows Vista. This component is crucial to ad-hoc networking because IPv6 is automatically configured, and does not depend on a DHCP server. When an ad-hoc network user shares a resource, the computer transmits a multicast message notifying others of the availability of that resource. It is also possible for other network users to send probe messages that are used as a discovery mechanism for shared resources.
Based on these principles, Microsoft built features into Windows Vista that simplifies ad-hoc peer networking. If you open the Windows Vista Control Panel and switch to "Classic View," you will notice an applet named "People Near Me." This applet, shown in Figure A, allows you to make your presence known over an IPv6 network. It also allows you to receive notifications when someone sends you an invitation to interact with them.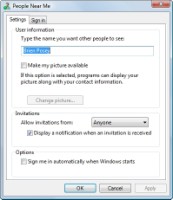 Figure A The People Near Me feature allows you to make yourself available for peer ad-hoc networking. (Click on image for enlarged view.)
Signing into the "People Near Me" applet alerts others on the network to your existence, and makes it possible to form a collaborative session. It is important to note that you are not automatically signed-in to hosting a collaborative session, nor will any of your machine's resources be shared over the network.
You may be wondering: How can I interact with other users on the network? There is an application on the Windows Vista Start menu called "Windows Meeting Space;" as shown in Figure B. It allows you to define a meeting and set a password for that meeting. The Options section at the bottom of the window is configured by default to use the current network, but if you click on it, you have the option to configure an ad-hoc wireless network instead.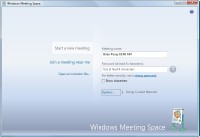 Figure B Windows Meeting Space allows you to create a collaborative environment. (Click on image for enlarged view.)
Once you have created the meeting space, you are taken to the screen shown in Figure C. By clicking on this feature you can opt to invite others to the meeting. Windows will use the" People Near Me" feature to locate other users in the area.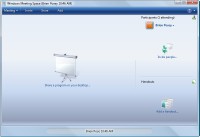 Figure C Once you have created a meeting, you can invite other users to join in. (Click on image for enlarged view.)
Meeting participants can open "Windows Meeting Space" on their own computer, select the meeting that they want to join and provide the meeting password. They can also opt to use an invitation file. Figure D shows what appears on the meeting participants' screen.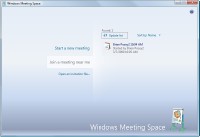 Figure D Others can join the meeting by entering the meeting password or by opening an invitation file. (Click on image for enlarged view.)
The beauty of this feature is that it requires absolutely no configuration. You don't have to set up IP address ranges or provide everyone with a DNS server. The IPv6 protocol takes care of the dirty work, making the collaboration process so simple that the average user can create or join a meeting with almost no effort.
ABOUT THE AUTHOR:

Brien M. Posey, MCSE
Brien M. Posey, MCSE, is a Microsoft Most Valuable Professional for his work with Exchange Server, and has previously received Microsoft's MVP award for Windows Server and Internet Information Server (IIS). Brien has served as CIO for a nationwide chain of hospitals and was once responsible for the Department of Information Management at Fort Knox. As a freelance technical writer, Brien has written for Microsoft, TechTarget, CNET, ZDNet, MSD2D, Relevant Technologies and other technology companies. You can visit Brien's personal Web site at http://www.brienposey.com.