makspogonii - Fotolia
Look before you leap with a Windows 10 Enterprise PoC
Before a company makes the move to a new operating system, IT should use a proof of concept deployment to test it out. Find out about Microsoft's PoC options for Windows 10.
Whenever Microsoft unleashes a new operating system on the world, business customers must think about migrating from their current Windows desktops to the latest version.
But before a company makes such an important move, IT administrators must make sure the new operating system won't cause any major problems for their users. To test the situation out, admins can get an entirely virtualized Windows 10 Enterprise environment from Microsoft, which is intended to make proof of concept (PoC) Windows 10 image creation and deployment easy.
In fact, there's a lot to like about Windows 10 Enterprise Edition for business use, including streamlined deployment, better security, a functional Start menu users can understand and more.
Begin an OS migration with proof of concept installation
Anyone can grab and download the materials associated with the PoC kit.
Most migrations start in a test lab, at least one year or two ahead of any actual go-live exercises. The process usually starts with a proof of concept implementation. A PoC lets admins and IT architects understand the building blocks involved in creating Windows 10 images for deployment. A PoC also lets them work with the Microsoft toolkit to customize, deploy and try out the images with line-of-business and home-grown applications so they can address compatibility problems before the rollout gets to production networks and desktops.
Following the PoC stage, there are normally pilot tests, where local admins and power users try out the new desktops in combination with normal daily workloads and digital activities. The goal is to expose, diagnose and fix potential issues that might affect a large-scale rollout and full-scale production use. Once everyone -- representatives from specific departments, IT and operations staff, executives, software development groups, and other stakeholders -- is satisfied, IT can move to the new OS.
Microsoft's Proof of Concept Kit for Windows 10 in the enterprise
Of course, Microsoft knows the steps of the migration dance as well as its enterprise customers do. As such the company already offers a five-day "Windows 10 Enterprise Proof of Concept" course to help its partners that service enterprise users prepare for their own PoC activities. Here's what the offering looks like: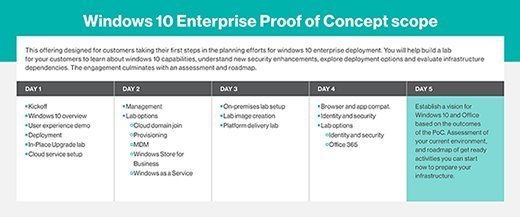 Although end users and customers may not be able to sign up for the training, anyone can grab and download the materials associated with the PoC kit. And, those materials include software and documentation carefully crafted to construct a temporary evaluation version of a proof-of-concept environment that runs for free for up to 90 days.
The Windows Accelerate Download Packages
The following table includes the materials used in the Windows 10 PoC kit, which also comprise the items and elements necessary to set up and run a completely virtualized Windows 10 Enterprise deployment.
The collection includes:
Hydration1604.zip: Classroom guides, lab definitions, disk images, general setup program.
Hydration1604-ServerParent.zip: Windows Server 2012 R2 server and System Center images, ready to install, in virtual machine (.vhdx) form.
Hydration1604-ServerParentGen2.zip: Windows Server 2016 Technical Preview and System Center images, ready to install, in virtual machine (.vhdx) form.
Hydration1604-IncEvalSource.zip: Complete collection of all materials in other downloads, plus Windows 10 Enterprise install images. This is the only item you need to download, except the training materials, unless you want to work separately with one of the other subsets.
Windows 10 Enterprise PoC Sales and Delivery Materials.zip: Training and documentation materials for the PoC class.
All the software, including copies of Windows 10 Enterprise, Windows 2012 R2 and 2016 Technical Preview Server, System Center Configuration Manager, and various elements of the Microsoft Deployment and Optimization Package admins need to build, curate and manage Windows 10 images for initial deployment and ongoing updates comes with the collection. Better still, the packages include enough instructional material to let Windows professionals get things up and running. As long as they have a working knowledge of System Center, Windows Server, Hyper-V and so forth, they'll be able to learn and practice the skills they need to set up and deploy Windows 10 for subsequent pilot and production rollouts.
The price is right, too. Though the software comes with an expiration period of 90 days, it costs nothing to download and use. The entire environment runs nicely on a single powerful server or a small cluster without difficulties. The PoC presents a powerful opportunity for learning and experimentation as enterprises and organizations start the long and winding process of migrating to Windows 10.