Problem solve
Get help with specific problems with your technologies, process and projects.
Microsoft Security Essentials can protect non-enterprise users in your business
Many businesses rely on independent contractors and other self-employed workers. Microsoft Security Essentials can provide antimalware protection to these users.
Microsoft Security Essentials may be the missing link in your enterprise security strategy.
Fundamentally, this product is the next generation of Windows Defender and a scaled-back version of Microsoft Forefront Client Security. It provides comprehensive protection -- including antivirus, antispyware and anti-rootkit -- at a 100% discount over its competitors.
The Microsoft Security Essentials license only allows for personal or home-based small business use. However, many enterprises operate with few actual employees. Instead, they rely on independent contractors and other self-employed people who work from home. Therefore, the scope of an enterprise malware protection policy reaches out to many non-employees, as shown in Figure 1.
Figure 1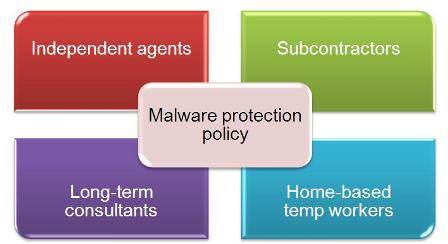 These non-enterprise users still need some means of malware protection. Although you can't force them to use a certain product, many workers will ask, "What's the best antivirus software to use?" or, "Which antivirus software should I use?"
In such a case, you may consider recommending Microsoft Security Essentials. Some benefits of the product include:
Support for Windows XP (32-bit) as well as Windows Vista and Windows 7 (32- and 64-bit).

Continual program and signature updates through Windows Update, including real-time protection against unknown threats via the Dynamic Signature Service. Although you still have to rely on independent users to check that their systems are properly updated, once that's configured, you're good to go.
Users hardly know that Microsoft Security Essentials is running. The product is less of a resource hog than other antivirus/malware protection options, and faster is better for many reasons, including performance, productivity and ensured protection.
Colors codes on the Microsoft Security Essentials icon in the system tray show the user where things stand at a glance: Green is "good," yellow is "fair," and red is "at risk." This is a simple approach, and something that people can keep an eye on.
Users aren't inundated with annoying pop-up alerts.
Users can install it and forget about it. This negates the need for centralized management for users who are on your network full-time.
Microsoft Security Essentials helps solve the problem of computers running outdated antivirus software -- or none at all -- which ultimately puts sensitive business information at risk.
While certain users understand the importance of antivirus protection, many others overlook it or ignore it completely, especially when they're not in an enterprise setting with better network controls and security awareness. Some assume that the 90-day free trial antivirus software that came with their computers is all that's needed. Others will disable or uninstall their antivirus bloatware because it's making their systems run too slowly.
Although you can't expect users to do the right things with security all the time, it's your responsibility to ensure that your enterprise network is protected. Before recommending Microsoft Security Essentials, review your specific circumstances with management and, if necessary, consult your legal counsel.
ABOUT THE AUTHOR
Kevin Beaver is an information security consultant, keynote speaker and expert witness at Atlanta-based Principle Logic LLC. Having worked for himself over the past seven years, he specializes in performing independent security assessments and helping IT professionals enhance their careers. Beaver has also authored/co-authored seven books on information security including Hacking for Dummies and Hacking Wireless Networks For Dummies (Wiley). In addition, he's the creator of the Security On Wheels information security audio books and the Security on Wheels blog providing security learning for IT professionals on the go. Beaver can be reached at kbeaver@principlelogic.com.