Problem solve
Get help with specific problems with your technologies, process and projects.
Microsoft Windows Vista Security Center review
Learn about Vista's Security Center in this first installment in our series on getting to know the newest Windows operating system.
Listen to a podcast on the Windows Vista Security Center with Brien M. Posey (4:39).
Microsoft maintains that, from the very beginning, security was the paramount focus in creating Windows Vista. That being the case, Security Center (which the company originally introduced in Windows XP Service Pack 2) has been expanded in Vista. In this tip, I will discuss Windows Security Center and its various capabilities.

Download this free guide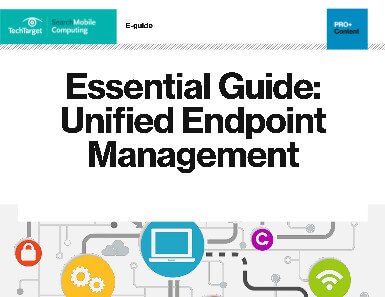 Free PDF: Your Essential Guide to Unified Endpoint Management
Download this 44-page guide to learn everything you need to know about UEM.
By submitting your personal information, you agree that TechTarget and its partners may contact you regarding relevant content, products and special offers.
You also agree that your personal information may be transferred and processed in the United States, and that you have read and agree to the Terms of Use and the Privacy Policy.
You can access the Security Center by opening the Control Panel and clicking the Security link, followed by the Security Center link. As you can see in Figure A, Windows Security Center contains four primary components: Windows Update, Windows Firewall, Windows Defender and Internet Options.
The Security Center seems to be intended more for use by novices than network administrators. Most of the options available through the Security Center are already accessible through other parts of the operating system (OS). In the case of Windows Firewall, the Secuirty Center actually reduces your ability to secure the OS because it hides configuration options from you.
Windows Firewall
At first glance, the Windows firewall seems virtually unchanged since Windows XP. As you can see in Figure C, the main Windows Firewall screen simply displays the firewall status and gives you the opportunity to change the various firewall settings. As was the case in the XP, clicking the Change Settings link displays the Windows Firewall Settings properties sheet, which allows you to turn the firewall on or off, set exceptions for programs that need to be able to communicate through the firewall and select which network interfaces the firewall applies to.
Figure C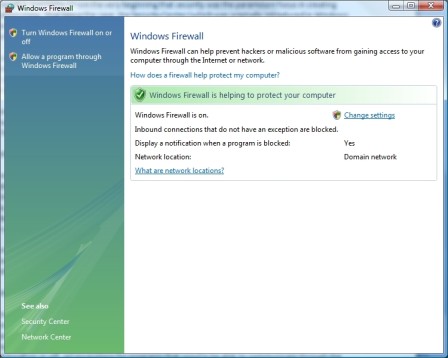 The Windows Firewall portion of Security Center appears to be virtually unchanged since Windows XP.
In my opinion, this over-simplified firewall interface is a real shortcoming for Windows Vista. The firewall actually contains many more features than meets the eye. Figure D shows you how many more options you have for managing the firewall if you use the Microsoft Management Console (MMC) Snap-in instead of the Security Center.
Figure D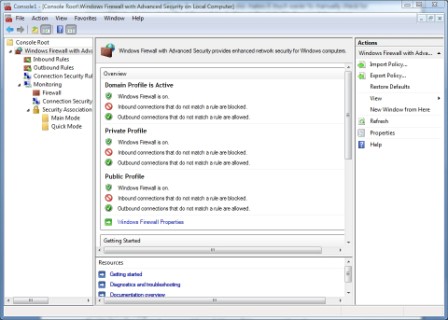 The Windows Firewall can be managed through Microsoft Management Console.
In addition to being able to manage the firewall through MMC, other new features include support for filtering both incoming and outgoing traffic and rules that can be applied to Active Directory accounts.
Figure A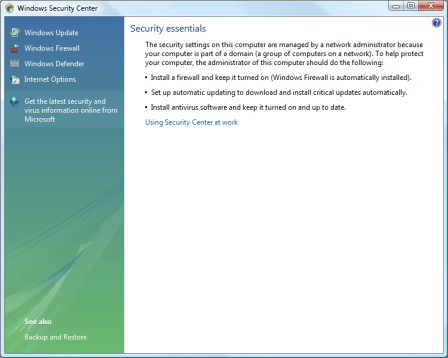 The Security Center has been redesigned in Windows Vista.
Windows Update
As was the case in Windows XP, Windows Update is still very simple to use. The Windows XP version of Windows Update allows you to configure LAN and the way in which updates are downloaded and installed. The configuration portion of Windows Update remains virtually unchanged in Vista. What has changed in Vista is that you now have the option of viewing the update history or restoring hidden updates, as shown in Figure B. Vista also makes it much easier to manually check for new updates by placing a large Check for Updates button on the main Windows Updates screen.
Figure B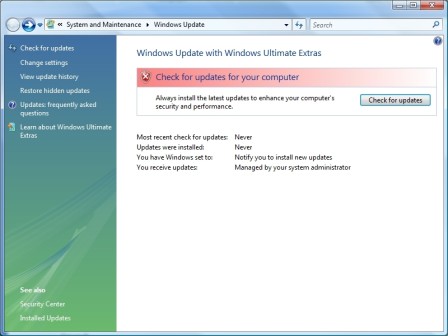 Windows Update now allows you to view the complete history.
Windows Defender
The only completely new feature in Security Center is Windows Defender. Although there is now a Windows XP version of Windows Defender available, Microsoft designed Windows Defender specifically for Vista. Windows Defender is an anti-spyware application for Windows that performs real-time scanning of the Windows operating system. It can be initiated manually.
As you can see in Figure E, the primary job of the Windows Defender interface is to allow you to check for updates to the spyware definition files. You can, however, use the screen to manually launch a scan of the system or to view the scanning history.
Figure E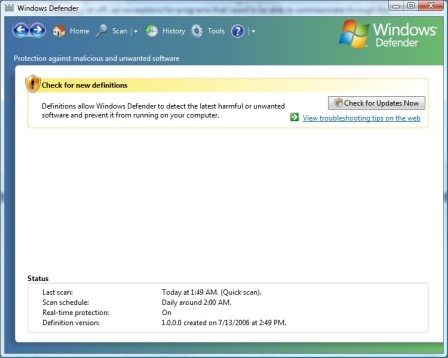 Windows Defender is an antispyware application.
Internet Options
The Internet Options screen is the same screen you see if you select the Internet Options command from Internet Explorer's Tools menu The screen does not allow you to do anything that you couldn't ordinarily do directly through Internet Explorer; thus, this feature isn't entirely original. As you can see in Figure F, you can use the temp Internet Properties sheet to select a security zone, set the security level for a security zone, configure a privacy level and/or enable the pop-up blocker.
Figure F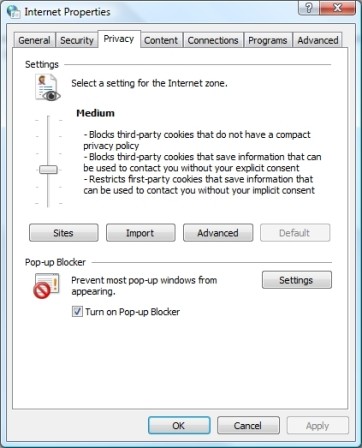 The Internet Options portion of Security Center reveals the exact same options that are available directly through Internet Explorer.
About the author: Brien M. Posey, MCSE, is a Microsoft Most Valuable Professional for his work with Windows 2000 Server and IIS. He has served as CIO for a nationwide chain of hospitals and was once in charge of IT security for Fort Knox. As a freelance technical writer, he has written for Microsoft, TechTarget, CNET, ZDNet, MSD2D, Relevant Technologies and other technology companies. You can visit his personal Web site at www.brienposey.com.
Dig Deeper on Microsoft Windows Vista operating system