Manage
Learn to apply best practices and optimize your operations.
Microsoft's Windows Task Manager: What's new in Vista?
While already a useful tool for administrators, Microsoft made several improvements to its Task Manager utility for Windows Vista. Technical writer Brien Posey breaks down what has changed.
One of the more useful utilities built into Windows is the Task Manager. For example, when a workstation becomes bogged down over time, the Task Manager can be used to find out what kind of background processes have been installed since the last time the computer was cleaned up. I have also found that the Task Manager is a great tool for finding possible spyware infections.

Even when you're not trying to weed the garbage out of a PC, the Task Manager also gives you a quick and dirty way to get performance information related to the CPU, memory, pagefile and network in lieu of opening the Performance Monitor.

With Windows Vista, Microsoft decided to make some significant improvements to the Task Manager. You'll find one of the more subtle changes at the bottom of the Task Manager window. In Figure A, you can see that Windows displays the percentage of the machine's physical memory that is currently in use. This information remains visible regardless of which tab is selected. The Windows XP Task Manager also displayed memory consumption, but not as a percentage.

Figure A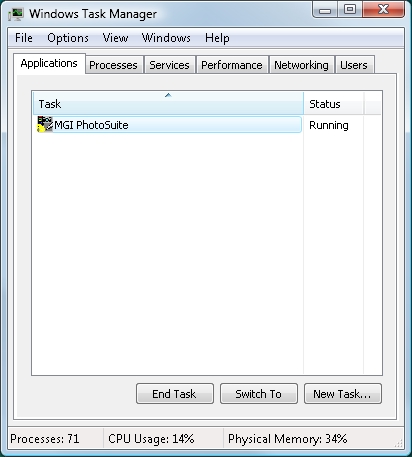 Most of the more noteworthy changes are found on the Processes tab. At first glance, this tab looks exactly like its Windows XP counterpart. The differences show up when you right-click on a process. When right-clicking on a process in Windows XP, you had the option of ending the process, ending the entire process tree or setting the processes priority. The Windows Vista version offers a lot more options.
One such addition is the ability to open the file location. This is handy in situations where you spot a process, but you aren't exactly sure what it is. Now, when you choose the Open File Location option, Windows Explorer takes you to the file that's associated with that process.
Incidentally, there is also a Menu option that allows you to see the Properties sheet for the file that's associated with the process. It lets you adjust security or compatibility settings without actually having to sift through the file system to find the file.
Another handy option is called Create Dump File. As many of you know, you can configure Windows so that when certain types of errors occur, the system will dump the contents of the machine's memory to a crash dump file. If you know how to debug a crash dump file, then this is a handy feature. The problem is that the crash dump file tends to be about the same size as the machine's physical memory. If the machine has 4 GB of RAM, then you may find yourself sifting through a 4 GB file in an attempt to find the cause of the crash.
Windows now lets you create a crash dump file based only on one specific process. This means that the file you are creating is a whole lot smaller than a typical crash dump file because it doesn't contain anything irrelevant to the problem.
One of the neatest new things available when you right-click on a process is the Set Affinity option. By default, processes can run on all of a machine's physical CPUs and across all CPU cores. The Set Affinity option allows you to control which CPUs or CPU cores a process runs on. You can see an example of this in Figure B.
Figure B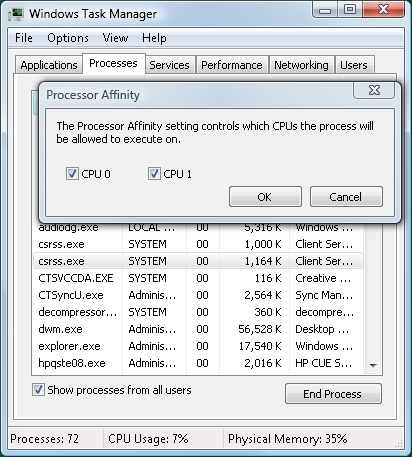 The last option available when you right-click on a process is the Services option. When you choose this, the Task Manager automatically switches to the Services tab (which is also new) and displays used services that are related to the process.
The Services tab, shown in Figure C, is kind of like a watered down version of the Service Control Manager. You can use the Services tab to start and stop system services, as well as to see whether or not a particular service is running. However, if you want to make any permanent changes to a service's startup state, you'll have to use the Service Control Manager.
Figure C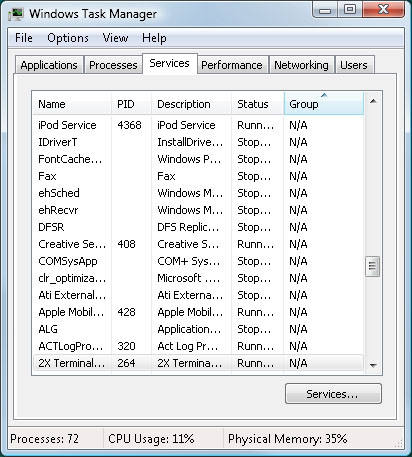 The last change I want to point out is that the Windows Vista version of Task Manager contains a Users tab that shows you which users are connected to the system. If need be, you can use this tab to log users off, disconnect them or even send them a message. You can see what the Users tab looks like in Figure D.
Figure D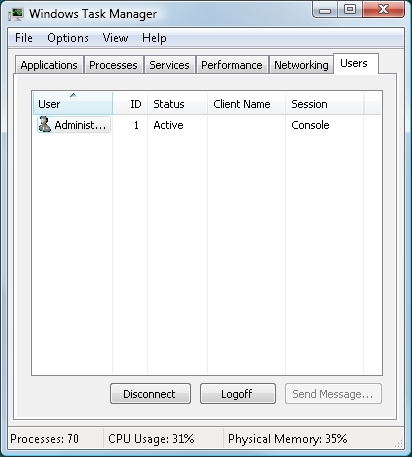 Windows Vista offers some significant improvements to the Task Manager. Hopefully, you'll find these improvements as helpful as I have.
Brien M. Posey, MCSE, has received Microsoft's Most Valuable Professional Award four times for his work with Windows Server, IIS and Exchange Server. He has served as CIO for a nationwide chain of hospitals and healthcare facilities, and was once a network administrator for Fort Knox. You can visit his personal Web site at www.brienposey.com.