Evaluate
Weigh the pros and cons of technologies, products and projects you are considering.
Migrating from XP to Windows 7 with the User State Migration Tool
Windows XP users must migrate to Vista before they can install Windows 7. The User State Migration Tool helps simplify this process – but the utility has some limitations.
One of Windows 7's biggest downfalls is its inability to do a true upgrade from Windows XP. For an individual computer,...
Continue Reading This Article
Enjoy this article as well as all of our content, including E-Guides, news, tips and more.
this really isn't that bad – it simply requires having to reinstall applications. Figure 1 shows the two options Windows 7 setup offers.
Figure 1: Choosing a Windows 7 installation type (click to enlarge)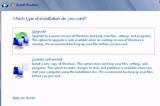 The Upgrade option only works with Vista. If you have Windows XP, then you must select the Custom option, which saves your data and Windows files and directories.
For Windows XP, Documents and Settings, Program Files, and Windows directories are saved in a Windows.old directory in Windows 7 after the upgrade, as shown in Figure 2.
Figure 2: The Windows.old directory (click to enlarge)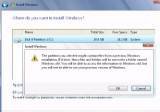 For Vista, the directory includes Windows, users, performance logs and program files: For x64 installations, the Program Files (x64) directory is included.
All of these directories are just files: There is no Windows XP bootable image. However, all the Windows files are there and all the applications must be reinstalled. In other words, data isn't lost with the custom upgrade option – just the applications are. Your profiles -- and all other data in the Windows.old directory -- can be moved to the proper location.
Migration tools
There are some free tools to minimize the manual steps in the migration.
For those who are providing tech support to friends and family, Windows Easy Transfer is the tool to use. Located on the Windows 7 DVD in \Support\Migwiz, the utility is accessed by running the Migsetup.exe, which pulls up a wizard to transfer user accounts, documents, pictures, email and other settings.
Administrators with a lot of clients to migrate should use the User State Migration Tool. It is a component in the Windows Automated Installation Kit (WAIK), and Version 4.0 now supports Windows 7. The WAIK download is a disc image that must either be burned to a DVD or opened with an ISO reading tool such as IsoBuster or magicISO. You should find a client computer, burn the WAIK to a DVD, and install it to this client. Then you can get the USMT files and transfer them to the computers you need.
Note: Whether you are doing an in-place install via the Windows 7 DVD or using the Windows Easy Transfer or USMT tools, any migration from XP to Windows 7 will not include applications. The only way to avoid reinstalling applications is to upgrade from a Vista installation.
USMT basics
USMT has two basic operations: Scanstate and Loadstate.
Scanstate is used on the source computer and reads predefined XML templates to gather user data, documents and application data. These files are migUser.xml, migDocs.xml and migApp.xml, respectively, in the USMT directory. While there is online help for these, it's minimal and hard to follow when you are formulating a command line. It will save time if you print a copy of the options from the USMT Components section of the USMT User's Guide.
Follow these four simple steps to perform the migration:
On the source computer:
Scanstate <path to store output file> /o /c /i:migUser.xml /i:migdocs.xml /i:migapp.xml

Note: The output file should be put on a network drive or USB drive. It is a compressed file called USMT.MIG.

Install Windows 7 on the destination computer (which can be the same as the source computer).
On the destination computer:
Loadstate <path of the USMT.MIG file> /c /lac /lae /i:migUser.xml /i:migdocs.xml /i:migapp.xml
Reboot the Windows 7 computer.
In part two of this series, I will walk you through a migration example and detail the options in the Scanstate.exe and Loadstate.exe commands as well as review troubleshooting steps. For now, refer to the USMT User's Guide.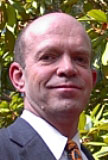 Gary Olsen is a systems software engineer at Hewlett-Packard in Global Solutions Engineering. He authored Windows 2000: Active Directory Design and Deployment and co-authored Windows Server 2003 on HP ProLiant Servers. Olsen is a Microsoft MVP for Directory Services and formerly for Windows File Systems.

Dig Deeper on Microsoft Windows 7 operating system