 BACKGROUND IMAGE: iSTOCK/GETTY IMAGES
Get started
Bring yourself up to speed with our introductory content.
Package managers ease installation of Linux programs
Tools such as Synaptic Package Manager provide a GUI for installing and maintaining the many Linux programs suitable for enterprise use.
In my previous article, I outlined how you can boot from a USB stick to try Linux on your laptop. It's not much of a stretch from there to install the operating system and Linux programs -- an icon on the desktop can lead you through the whole process.
The next step is to start learning about the thousands of Linux programs for doing just about any task. There are servers, clients, desktop applications, network tools, productivity suites and more. Examples include the Apache Web server, the Thunderbird email client, the Firefox Web browser and LibreOffice. Several programs might do similar jobs, in any given task category, and you should decide which ones work best for you.
Different varieties of Linux consolidate their installation files into two main camps, depending on the distribution or brand of Linux. Installation files are called packages and are categorized by their file extensions. The Debian camp, also called APT-based packages, applies to Debian, Ubuntu, Xubuntu, Mint and others. They use .deb files.
The Red Hat-based package distributions include Fedora, CentOS, Red Hat Enterprise Linux, Mandriva and SuSE. They use .rpm flavored installation files. The difference between the two types of files comes down to the way they resolve software dependencies and exactly which programs are included in their distribution.
I don't think one is necessarily better than the other. Personal preference and what your company uses influence your choice of a specific variety and distribution. Package managers handle Linux programs, system files and applications.
Package manager primer
Package managers provide a front-end GUI for installing and maintaining Linux programs. You can also load programs using the apt-get command from a terminal. Many advanced users prefer the (text-based and non-graphical) apt-get command for installing applications.
Ubuntu Linux variants come standard with a package manager call the Ubuntu Software Center, which isn't my first choice. It offers a nice basic, easy-to-use layout that we'll actually use to load my preferred choice, Synaptic.
I like Synaptic because it gives a comprehensive view of the packages and more control over how I load Linux programs than the Ubuntu Software Center or other package managers do.
Other examples include Yum for .rpm (Red Hat) distributions, Pacman for Arch Linux and Emerge for Gentoo-based Linux. DistroWatch has links, popularity rankings and descriptions of just about every Linux distribution known to man.
Getting Synaptic on Xubuntu
Bring up Xubuntu on your laptop, click the main menu button, and select the "system" tab. Go down the list and select "Ubuntu Software Center." You may be asked for a password. Use your normal login password, because by default regular users are granted permissions to load software. The screen should look like Figure 1.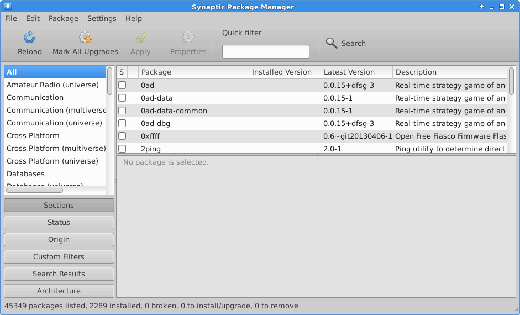 Next, type "Synaptic" in the search box in the upper right. Synaptic will show up, and if you click on it, an "install" button will appear to the right. Push the "install" button, and Synaptic will load. When the installation has completed, close the Ubuntu Software Center. Before closing the window, poke around a little bit. Who knows; you might fall in love with the Ubuntu Software Center!
To get going with the Synaptic Package Manager, go back to the main Xubuntu menu, scroll down to "system," and select "Synaptic." You'll again have to enter your normal Xubuntu user password to proceed. The screen will look like Figure 2.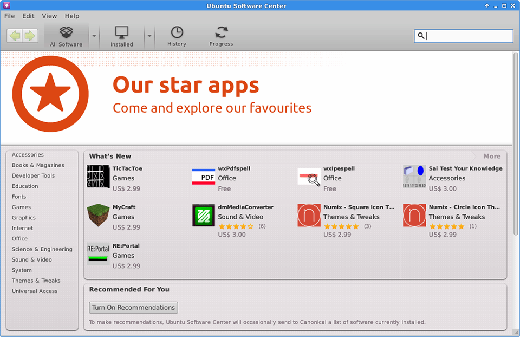 How Synaptic works
The first thing you should always do is click on the "Reload" button. This updates the software repository lists and makes sure you are getting the latest available version of an application. Once that's done, you can proceed to install some new programs.
Along the left side is a menu of categories of programs. Click on one of the selections, and you'll get a list of associated programs in the main selection menu. Click "all" to look at all the categories again.
If you want to find a particular program, simply type its name in the Quick Filter box at the top of the screen. Results will show up in the main window listing. I've found that you can use keywords in the Quick Filter if you don't know the name of a program.
Sometimes it's helpful to search for the name of a program or application online to find out the exact spelling and then search for it in Quick Filter.
Once the Linux program you wish to install is displayed in the main window, highlight its name to get more details, which will show up in the bottom of the window.
Next, click the blank check box in front of the program to bring up the installation drop-down menu. Here you'll find Unmark, Mark for Installation, Mark for Re-installation, Mark for Removal, etc. Select "Mark for Installation."
You may get another pop-up telling you what other packages will be loaded to satisfy the dependency requirements of your chosen program. If you get the pop-up, click "OK" to continue. Once all that is done, you'll see a little checkbox next to the program. Choose other programs if you like, using the same selection method.
After you've selected all the programs you want to install, click the "Apply" button at the top to begin installation of all the marked packages. Another pop-up will appear asking if you'd like to apply all the changes. The box also shows dependency statistics and if any packages won't be installed.
Typically, that last issue is resolved by hitting "Reload" to update the repositories, then "Mark All Upgrades," then the "Apply" button again. Programs are upgraded as often as daily, so this just ensures that you are running the latest and greatest versions.
When you are satisfied with the upgrades, click the "Apply" button at the bottom right of the Summary window. You'll next see a pop-up window that shows the progress on your installation. Adding a lot of new programs could take a few minutes, depending on the speed of your processor, speed of your disk, network bandwidth and so on. Synaptic will eventually return to the main screen when the installation is complete.
You can also use Synaptic to remove Linux programs that you no longer use or to free up space on your disk. This does not apply to files for Windows, which doesn't really have package manager options. The two operating systems might run side by side through virtualization, but they'd manage different apps.
In this case, find the program you'd like to remove, and again select the check box next to its name in Synaptic. This time, mark the program for "Complete Removal." Click the "Apply" button at the top to complete the action.
When you are through with installing or removing programs, simply exit from Synaptic.
New programs will usually show up on the Xubuntu menu immediately. Sometimes you need to log out and log back in to see the new program on the menu. Remember, too, that some programs are command-line oriented and typically don't show up in the Xubuntu menu. Bring up a terminal and type in the program name directly to start it in that case.
We've looked at the process of loading and removing programs with the Synaptic package manager. You'll want to explore some of the various categories, just to see what kind of cool programs are available.
Also, do a little research online when you come across a program you think might be helpful. Such programs often have dedicated webpages, such as Thunderbird. Other times, you'll only find a main page or wiki entry for a program.
There are thousands of Linux programs just waiting to be used. Perhaps Wireshark, a sophisticated packet sniffer, will spark your interest. In addition, .NET shops can investigate the Mono programming framework. Take advantage of these programs with Synaptic Package Manager.
Dig Deeper on Alternative operating systems