Manage
Learn to apply best practices and optimize your operations.
Preparing applications for Windows Vista migration
Migrating to Vista? Be sure to build in enough time to prepare applications adequately.
Preparing applications is the biggest part of any move to a new Windows operating system, especially Windows Vista. Because most organizations run up to several hundred applications on their desktops, testing and validating, repackaging and performing quality assurance on these applications requires significant effort.

With that in mind, it's no wonder people are reluctant to move to Vista. But with the release of Windows Vista Service Pack 1 in the works, more organizations will be ready to migrate to the new OS.

Download this free guide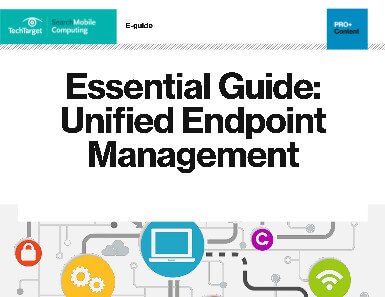 Free PDF: Your Essential Guide to Unified Endpoint Management
Download this 44-page guide to learn everything you need to know about UEM.

By submitting your personal information, you agree that TechTarget and its partners may contact you regarding relevant content, products and special offers.

You also agree that your personal information may be transferred and processed in the United States, and that you have read and agree to the Terms of Use and the Privacy Policy.

Preparing each application for migration can take anywhere from a day and a half to 10 days, depending on its complexity and an IT shop's familiarity with the application. If an organization is running hundreds of applications, this can add up to quite a few days of work. What's worse, this same process has to be redone every time there is a move to a new operating system.

If you're getting ready to migrate, you have to understand fully how Vista's underlying infrastructure will affect the way your applications work. For example, Microsoft has changed the version number of Windows with Vista to number 6.0. If your application verifies the version number at installation and the Vista version is not listed as acceptable, installation will fail.

Another significant change is the release of x64 versions of Vista. Although x64 versions of XP were available, more people will jump onto the x64 bandwagon with Vista because more and more hardware systems are being released with x64 processors and therefore, x64 versions of Vista

X64 versions of Windows will not support 16-bit applications. If you are moving to x64, then you will need to upgrade your 16-bit applications.

Microsoft also modified the way applications access the OS. The applications no longer have access to kernel-mode processes as they did in Windows NT and must run in user-mode only. If your applications require kernel-mode access, you will have to modify them programmatically.

The file system in Vista is also changed, which means you must update applications running at low levels of the OS — such as antivirus engines.

In addition, the Vista Web platform and the .NET Framework have been updated to new versions. Vista now runs Internet Information Services version 7, which is significantly different from previous versions because it is "componentized." In other words, you install only the components you need. All Web and ASP.NET applications that run on desktops will have to be verified.

Finally, the biggest release-related change you face is having to update Windows Installer. Because of the new User Account Control feature in Vista, applications must be trusted in order to update in user mode. Because of this, you should digitally sign your Windows Installer packages so you can then patch applications in standard user mode, which will not require elevated privileges for patching.

Use the following table to review how release-related components change how your applications will work:
Issue
Description
Solution
Version Number
Vista is Windows number 6: Applications that look for specific versions and have not been updated to include this version will fail
Edit the installation file to include the new version number.
Run it in a Windows OS compatibility mode. Vista supports from Windows 95 to XP SP2.
64-bit Systems
Includes a Windows on Windows, or WoW, 32-bit emulator and does not provide support for 16-bit applications or for the installation of 32-bit kernel mode drivers.
x64 editions of Vista automatically convert 16-bit installers.
The ideal mitigation strategy is to run 64-bit applications on x64 Vista.
Session 0
Vista includes only kernel-mode processes. Applications now run exclusively in user mode. Applications that need to operate in kernel mode will fail.
Programmatically update the application to use global objects instead of local objects.
Display all interfaces in user mode only.
File System
Vista uses a new file system driver.
Applications that operate at a low level in the file system — antivirus, disk defragmentation and so on — must be updated to Vista-compatible versions.
Vista Web Platform
Upgraded to Internet Information Services (IIS) version 7, administrators can now install only the components that are required to deliver Web services. Applications that have not been updated to operate with IIS 7 will fail.
Applications must support the new protected mode.
Applications can be run in another third-party browser.
.NET Framework
Upgraded to version 3.0. Managed code that is not compatible with v3.0 will fail.
Vista supports the older versions of .NET Framework, which you may need to install
Windows Installer
Vista uses Windows Installer version 4. Version 4 is not available for any older version of Windows
All Windows Installer packages must be updated to version 4.
Ideally, all packages will be digitally signed to support patching in standard user mode.
There are other modifications that change the way Windows Installer works with packages. Because of this, you should run each of the packages you have through a compatibility checker and upgrade them to Windows Installer version 4.0.

As you can see, migrating to Vista can be a lot of work, especially in terms of application preparation. Make sure you allot enough time in your migration project timelines to adequately prepare each application.

Danielle Ruest and Nelson Ruest are IT professionals specializing in systems administration, migration planning, software management and architecture design. Danielle is a Microsoft MVP in virtualization, and Nelson is a Microsoft MVP in Windows Server. They are authors of several books about Windows and are currently working on the Definitive Guide to Vista Migration for Realtime Publishers as well as the Complete Reference to Windows Server 2008 for McGraw-Hill Osborne.

Dig Deeper on Microsoft Windows Vista operating system