Problem solve
Get help with specific problems with your technologies, process and projects.
Teaching a new PC old tricks: How to deploy Windows 7's XP mode
Windows XP Mode can help corporate IT move to Windows 7 and avoid application compatibility problems. Learn how to install and deploy XP Mode across your network.
Windows 7 arrived last month full of fine promises and capabilities, tempting IT managers to make the jump to Microsoft's latest operating system. Although Windows 7 is evolutionary and not revolutionary, its benefits should still appeal to IT managers, especially those looking to finally make the leap from 32-bit Windows XP to a modern 64-bit OS. A new capability in Windows 7 -- XP Mode -- allows you to make that leap without tripping over application incompatibilities.
Many IT managers have been bitten by the upgrade bug and have had less-than-desirable results. For example, consider the incompatibilities that were uncovered when organizations attempted to upgrade to Windows Vista. Several apps that functioned fine under Windows XP simply wouldn't work correctly under Windows Vista. That problem derailed many upgrade strategies and left some IT managers with Windows XP.
The new XP Mode (XPM) solves the incompatibility issues by using a virtualization technology that allows older applications to run on Windows 7 as if they were installed on Windows XP. Most PCs that come with Windows 7 preinstalled should be able to support XPM. It works with Windows 7 Professional, Ultimate and Enterprise editions and requires a processor capable of hardware virtualization (such as an AMD-V or Intel VT), 2 GB of memory, 20 MB of hard disk space for installing Windows Virtual PC and an additional 15 GB of hard disk space per each virtual machine.
XPM can be downloaded from the Windows Virtual PC page. The download consists of two parts: Windows XP Mode installation files and Windows Virtual PC. XP Mode must be downloaded and installed first, then Windows Virtual PC.
Getting started
Once both items are installed, additional configuration must be done by launching the Windows XP Mode wizard from the start menu. That wizard creates the XPM environment, including the virtual hard drive that will store the applications that need XPM to run. After the basic configuration process is completed, XPM launches for the first time -- running on a virtual PC.
Figure 1
Windows in XP Mode. (Click image for an enlarged view.)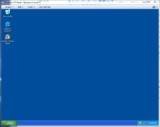 Installing aXP-only application takes place in the virtual PC. For this example, an old version of Intuit's QuickBooks can be installed from an installation CD. For most users, inserting the CD for the first time into the PC will probably launch an installation wizard on the Windows 7 Desktop. That installation will have to be canceled, or that application will install under Windows 7 and not XPM.
From the XPM virtual machine console, manually launch the application install by double-clicking on the CD in the "My Computer" window to restart the install procedure. From there, it is a simple matter of following the application-installation prompts.
Figure 2
Double-click on the CD in the "My Computer" window. (Click image for an enlarged view.)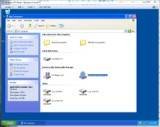 Once installed, the application can be run from the XPM virtual PC -- just likeit would work on a traditional virtual machine, or it can run using "seamless mode."
Seamless mode
Most IT managers will want to run legacy applications with XPM's Seamless Mode, which enables users to run Windows XP applications directly from the Windows 7 desktop. Once an application has been installed under XPM, it will also appear in the Windows 7 "All Programs" menu. Because of that, users don't have to open the Windows XP Mode desktop environment in order to run those applications. They can be simply launched directly from the Windows 7 start menu or from the Windows 7 desktop if a desktop shortcut has been created for the app. Launching the application will also launch the virtual machine, so the app may take a moment or two to complete this process. After it is launched, the application will perform exactly like any other program on the Windows 7 desktop.
Figure 3
An application will perform like any other app on the Windows 7 desktop. (Click image for an enlarged view.)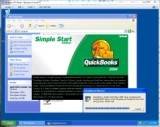 Deploying across the network
The above example showed how to deploy an XP application under XPM on a single PC, however most network administrators will be interested in installing XPM across corporate desktops, automatically and without having to visit each and every PC that requires access to XP applications.
Microsoft has created several scripts, procedures and add-on utilities to make that possible. There are several different ways to deploy XPM across the enterprise. Three of these methods, as described by Microsoft below, should cover the majority of installation scenarios.
Virtual PC only. Using this option, you only deploy Windows Virtual PC. You can inject Windows Virtual PC into your Windows 7 images or deploy it to systems already running Windows 7. As part of the installation process, Windows Virtual PC creates a Windows XP Mode shortcut in the Start Menu. When users click on this shortcut, Windows Virtual PC will prompt users to download and install Windows XP Mode. Users have the option to determine whether they want to use Windows XP Mode.



Existing image. Deploying the existing Windows XP Mode image is the easiest way to deploy a virtual Windows XP environment. This option prevents you from having to update the image regularly. You can install applications in Windows XP Mode after deploying it to each computer. This method also limits the size of the Windows XP Mode image and preserves the default Windows XP Mode user experience.



Customized image. Using this method, you install Windows XP Mode on a lab computer and extract the Windows XP virtual hard disk (VHD) from it. After installing applications and customizing the image, you prepare the image for distribution by running the System Preparation Tool (Sysprep) and then deploying it. This technique results in larger image sizes and uses more network bandwidth, and it doesn't preserve the default Windows XP Mode user experience. Note that this method adds the complexity of maintaining the image for new application versions.
To pick the method that works best in a particular enterprise, you'll need to plan carefully and consider the scope of the deployment needed. That said, one thing is certain -- XPM can be made to work with Windows 7 under almost any situation and is a "best of both worlds approach," allowing IT departments to upgrade to the latest technology while still preserving their investment in legacy applications. For those looking to purse XPM, Microsoft offers many installation scenarios, guides and scripts online.
ABOUT THE AUTHOR:
Frank Ohlhorst
Frank Ohlhorst is an IT journalist who has also served as a network administrator and applications programmer before forming his own computer consulting firm.
Dig Deeper on Microsoft Windows 7 operating system