Problem solve
Get help with specific problems with your technologies, process and projects.
Understanding the Microsoft Desktop Optimization Pack
The Microsoft Desktop Optimization Pack can help you mange, control and deploy client software -- and it could save you money.
The Microsoft Desktop Optimization Pack is a set of tools designed to help manage, control and deploy client software...
Continue Reading This Article
Enjoy this article as well as all of our content, including E-Guides, news, tips and more.
-- and it can provide substantial cost savings for your environment.
The six-part suite -- which is only available to Software Assurance (SA) customers -- includes the following:
Asset Inventory Service (AIS)
Application Virtualization (App-V)
Advanced Group Policy Management (AGPM)
Diagnostic and Recovery Toolset (DaRT)
Microsoft Enterprise Desktop Virtualization (MED-V)
Desktop Error Monitoring (DEM)
Microsoft Desktop Optimization Pack (MDOP) 2009 for Windows 7 deployment was released in October 2009; MDOP 2010 was released in February 2010.
What do the MDOP tools do
The components of the MDOP suite are improved on a regular basis. Here are the details of each technology, as well as the latest versions available.
Asset Inventory Service
AIS is very similar to -- if not the same as -- the asset intelligence product introduced with System Center Configuration Manager in 2008. The tool compares your Microsoft installations to the licenses you own, and determines not only if you are out of licensing limits, but also if your licenses are being used efficiently, making it a powerful tool for compliance.
Application Virtualization
App-V lets you virtualize applications in several ways. For example, you can virtualize a single app to a remote desktop so that it appears to be installed on the user's desktop. App-V uses Internet Information Services (ISS) and interfaces with Active Directory to determine application deployment based on a user's group membership.
The latest version of App-V, App-V 4.6, was released as part of MDOP 2010 and adds support for 64-bit Windows. It also offers a new functionality that takes advantage of Windows 7 features like BranchCache, BitLocker To Go and AppLocker, and it supports virtualization of Office 2010. App-V 4.5 SP1 adds support for Windows 7 and Windows Server 2008 R2 (and their features) in addition to a hotfix rollup for all hotfixes since the 4.5 release. The final release of MED-V 1.0 SP1 -- as well as 13 new localized languages of App-V 4.6 -- will be available in April 2010.
Advanced Group Policy Management
AGPM is helpful in situations where multiple administrators are responsible for editing group policy -- or where you want change control enforced. It requires checking out of a Group Policy Object and approving it before you check it back in and deploy it. In addition, the service provides multiple approvals, change history and a rollback feature.
Group policy mistakes can easily break things, but AGMP can mitigate those situations. Both server and client components work on Windows Server 2003, Windows Server 2008 and Vista (not on Windows XP): The new version of AGPM works on Windows Server 2008 R2 and Windows 7. For more information, check out this step-by-step guide lists compatibility and deployment tips for AGPM.
Diagnostic and Recovery Toolset
Similar to the old Windows Preinstall Environment(WinPE), DaRT is based on the Windows Recovery Environment and includes tools to recover a desktop that won't boot. With DaRT, you can boot from custom boot images. The tool set also provides failure analysis, troubleshooting and repairs for problematic device drivers without starting Windows. This includes my favorite recovery tool, ERD Commander. DaRT v6.5 was released in MDOP 2009.
Microsoft Enterprise Desktop Virtualization
MED-V allows a client to host an application that runs in a virtual machine. This is helpful if, for example, you want to move to Windows 7, but one of your applications works only with Windows XP. MED-V can run this app in a virtualized environment. Of course, this can also be done with Virtual PC, VMware Workstation, etc., but then you'd have a messy environment where the user has to deal with two desktops and can be confused as to which one he is clicking in.
MED-V pushes the virtualized app to the start menu to make it transparent to the user. Basically, this is like a poor man's App-V, with the client hosting its own virtualized app. Med-V v1.0 SP1 will be released in April 2010.
Desktop Error Monitoring
System Center Desktop Enterprise Monitoring 3.5 is built from Microsoft System Center Operations Manager (MOM) 2007 R2. Like MOM, it monitors and reports crashes and hangs, and it monitors Microsoft and third-party applications that use the Dr. Watson framework. With DEM, you can track error frequency in a specific application.
Can MDOP save you money?
On its website, Microsoft has a tool that calculates your return on investment. And Microsoft has done its homework getting three companies to provide tools and data-analysis techniques to prove that MDOP will save you money in almost any situation.
I ran a test ROI to get a report for Business Value Analyst, one of several reports that Microsoft's tool can produce. It gathers data including industry type, the number of PC users, growth of that number, the number of laptops and desktops, the OS used, and the number of branch offices. It then asks how you want to install various MDOP components. You check off each MDOP component you want (DaRT, AGPM, etc.) and indicate how many PCs will deploy App-V and MED-V, the MDOP license fee, and if you are a Microsoft SA customer (the correct answer is yes).
The analysis of the total cost of ownership is shown in Figure 1.
Figure 1: TCO analysis (click to enlarge)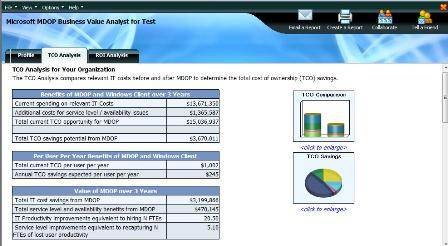 In this example, the tool filled in current spending on relevant IT costs at $13.6 million. When additional costs were added, the tool determined a total TCO opportunity for MDOP and a total TCO savings potential of $3.6 million, as well as a three-year savings forecast.
The details of the calculations are shown in Figure 2.
Figure 2: TCO calculation details (click to enlarge)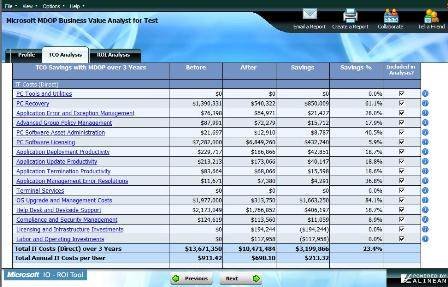 In this tab, you can eliminate the line items that don't apply to your organization, removing them from the analysis.
Figure 3 shows the ROI analysis, internal rate of return (IRR) and payback period.
Figure 3: ROI analysis, internal rate of return (IRR) and payback period (click to enlarge)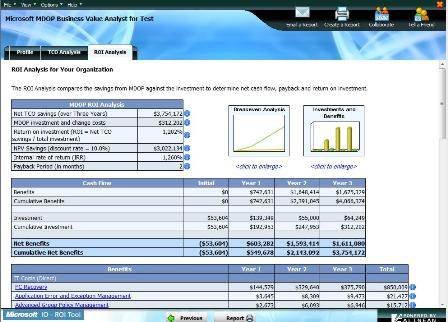 According to the Microsoft tool, MDOP will pay for itself in two months. Time to buy, right? Not necessarily. Since I didn't enter a dollar value in the questions at the beginning, the calculation is based on an "industry standard" of how much it costs to buy, update and maintain PCs and laptops (including licensing costs). Your actual mileage may vary, though. I would feel more comfortable if the tool had asked for things such as annual support costs, PC refresh costs and the costs of software licensing instead of pushing me into a one size fits all solution.
Since I've written several articles on ROI calculations for Windows environments, in addition to doing a few in the real world, I know that it's one thing to show a project will have huge savings -- but quite another to prove it. It's important to make sure you use real numbers. Don't depend on estimates of industry averages, because what happens in three months, when the CIO asks you to show the actual cost benefit you received from spending $100,000 on your $10,000?
Licensing fees are the big cost-saving aspect of MDOP. For example, if you are currently implementing App-V at $20 per seat, Group Policy Management at $15 per user and third-party components at various costs, the total adds up quickly. This immediately makes MDOP -- at $10 per seat -- a way to save money (without figuring in help desk costs for each PC). It may be best to do a simple ROI calculation based on licensing alone, and actual cost savings are easy to prove with a few invoices.
MDOP is a powerful set of tools covering all aspects of the desktop environment, and its components are being improved all the time. Careful planning, implementation and deployment of MDOP technologies could not only make life easier, but also provide a substantial cost savings.
ABOUT THE AUTHOR:

Dig Deeper on Microsoft Windows 7 operating system