Evaluate
Weigh the pros and cons of technologies, products and projects you are considering.
Using Modern.ie to test Web browser compatibility with applications
Although Microsoft's Modern.ie can be helpful with testing Windows app compatibility with Internet Explorer, there are some things to keep in mind.
One of the biggest challenges that enterprise desktop administrators face is Web browser and application compatibility. User complaints will be familiar, regardless of whether IT is providing upgrades to Windows 7, Internet Explorer 11, new code deployments or mere Windows hotfixes: "Whatever you did broke the application," or "Why won't this new feature work in the browser?"
The problems can start at the development stage and proceed through quality assurance. Then, before you know it, Web browser bugs, Windows 8 app compatibility and related gotchas have users on alert, and the problem is in your lap.
There's no need to sweat it, because Microsoft has a resource called Modern.ie that provides tools and resources to help admins test for IE compatibility issues. My favorite thing about Modern.ie is the free virtual machine downloads for Windows, Mac and Linux platforms and systems such as VirtualBox and VMware.
You can choose from IE6 on Windows XP all the way up to the current IE11 on Windows 8.1, with seven version combinations in between. You can also run browser-compatibility scans directly from the Modern.ie website or download a standalone version. The only frustrating thing about Modern.ie is that I only recently found out about it.
The following screenshot shows the Windows desktop of an IE11/Windows 8.1 Modern.ie virtual machine: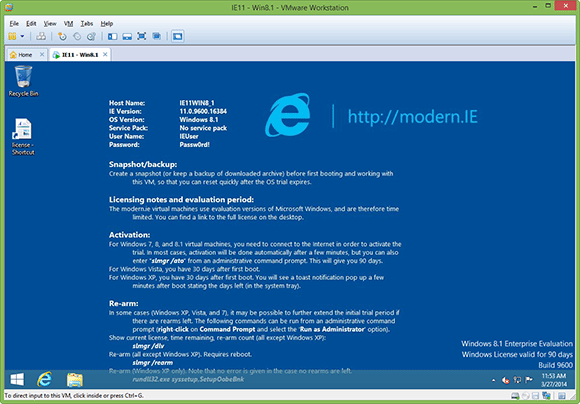 After using Modern.ie, I've learned a few things to keep in mind for both testing and security purposes, especially when testing on a production network with production data:
More on Windows app compatibility
The Modern.ie VMs boot to the Windows desktop automatically -- no authentication required. You can disable this feature by typing "control userpasswords2" at a command prompt and checking "Users must enter a user name and password to use this computer."
Automatic Windows Updates are disabled by default -- presumably so that IE does not automatically upgrade and mess up your testing efforts.
Windows Firewall is enabled on all VMs by default. However, malware protection ranges from minimal on Windows 8.1 virtual machines (Windows Defender) to nothing at all for Windows XP VMs. Don't let this bite you!
On Windows XP and Vista, you have 30 days to activate the operating system. On Windows 7, 8 and 8.1, the 90-day trial will be activated automatically. If it doesn't, enter "slmgr /ato" at an administrative command prompt. More information about the activation, rearming and snapshots is included on the desktop wallpaper of the virtual machines.
Microsoft has worked to minimize IE compatibility issues with its efforts around Compatibility View. However, most businesses run a mix of legacy and new apps, some of which were developed in-house or by third parties. Thus, Windows 8 app compatibility challenges continue.
Check out the downloads and other resources on the Modern.ie website and inject yourself deeper into the software development and IT management lifecycles. You'll be able to set up test environments for preventing and troubleshooting Web browser compatibility problems. Just as importantly, you'll be able to learn more about your environment and sharpen your hands-on skills at the same time.