 BACKGROUND IMAGE: iSTOCK/GETTY IMAGES
Problem solve
Get help with specific problems with your technologies, process and projects.
Using Reliability and Performance Monitor to gauge system stability
Windows Vista's Reliability and Performance Monitor is a lightweight tool that help desk professionals can use to diagnose the cause of system errors.
When a computer problem occurs, the first thing the help desk will usually ask is what changes were recently made to the environment and by whom. This question is more difficult to answer than one might expect.
For one, if an end user made the change, they may lack the skills to communicate what was changed, or be reluctant to admit to it for fear of getting into trouble. If someone in the IT department made the change, determining who it was could be difficult, or the technician might not remember exactly what they did to the system.
Fortunately, there's a built in tool in Windows Vista called Reliability and Performance Monitor that can help the support staff gauge a workstation's overall stability, as it puts change management information and event log information in one place.
To access the Reliability and Performance Monitor, open the Control Panel, switch to classic view, and open the Administrative Tools applet. From there, just double-click on the Reliability and Performance Monitor icon.
Figure A below shows you what Reliability and Performance Monitor looks like. Just to the right of the chart in the figure, you will notice the words Software (Un)installs, Application Failures, Hardware Failures, Windows Failures, and Miscellaneous Failures. The Reliability Monitor tracks each of these types of events, and plots them on the chart when they occur. Fewer system errors prove greater system reliability.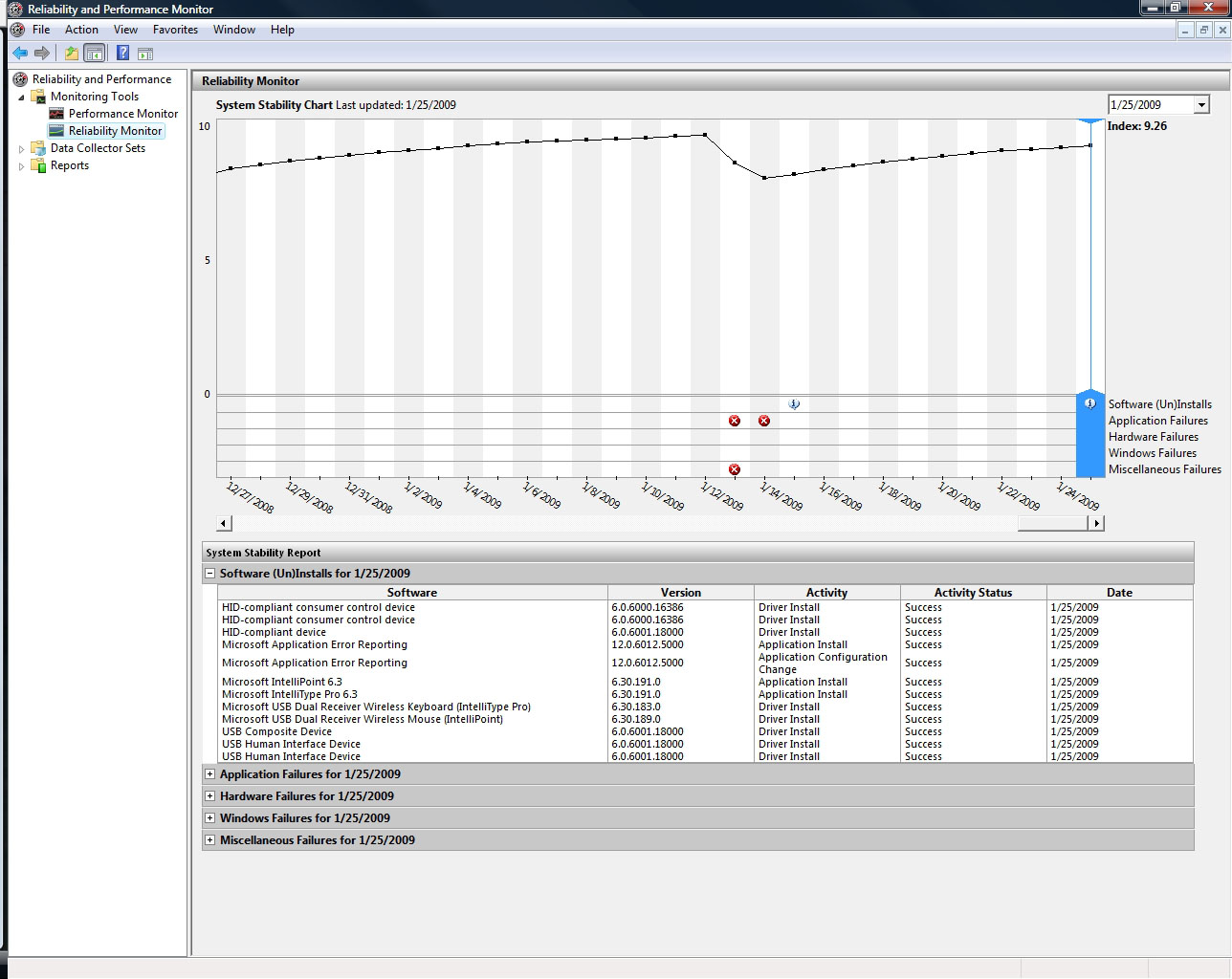 Figure A: The Reliability and Performance Monitor graphically tracks a system's reliability. (Click on image for enlarged view.)
Notice the information icon in the Software (un) install section for January 25th. If you look at the bottom of the screen, you can see exactly what software changes were made on that day.
Figure A also shows me that there were some issues that decreased its reliability on January 13th and 14th. Even though I use this computer every day, I have absolutely no idea what happened on those particular days. If I look at the chart however, I can tell at a glance that application failures occurred on both the 13th and the 14th, and that there was a miscellaneous failure on the 13th as well.
While this information can certainly provide help with the troubleshooting process, we can do better. The neat thing about this tool is, if you click on a particular day on the chart, you can see detailed information about the events that were logged. Figure B, shows me that Microsoft Word stopped working on the 13th of January, and that there was a disruptive shutdown.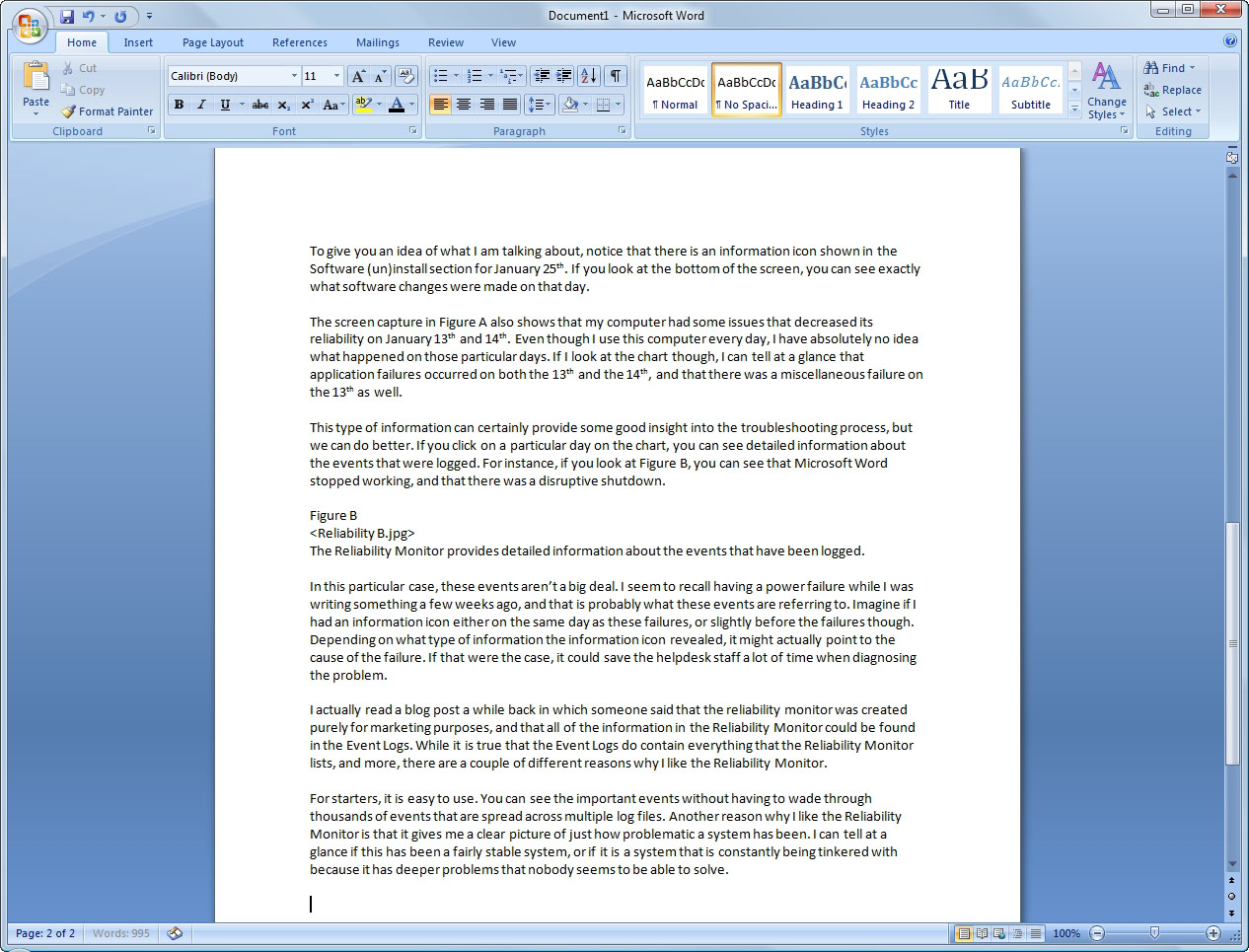 Figure B: The Reliability Monitor provides detailed information about events that have been logged. (Click on image for enlarged view.)
In this particular case, these events aren't a big deal. I seem to recall having a power failure while I was writing something a few weeks ago, and that is probably what these events are referring to. Imagine what I could learn if I had an information icon either on the same day as these failures, or slightly before the failures occurred. Depending on what the information icon revealed, I might know exactly what caused the power failure. Imagine how this type of information could help the help desk as they diagnose Windows-related problems.
ABOUT THE AUTHOR:

Brien M. Posey, MCSE
Brien M. Posey, MCSE, is a Microsoft Most Valuable Professional for his work with Exchange Server, and has previously received Microsoft's MVP award for Windows Server and Internet Information Server (IIS). Brien has served as CIO for a nationwide chain of hospitals and was once responsible for the Department of Information Management at Fort Knox. As a freelance technical writer, Brien has written for Microsoft, TechTarget, CNET, ZDNet, MSD2D, Relevant Technologies and other technology companies. You can visit Brien's personal Web site at http://www.brienposey.com.