kiko - Fotolia
Using Windows 8 settings for performance improvement
Windows 8 settings and built-in optimization tools such as Windows 8 Fast Startup can make life easier for Windows 8 and Windows 8.1 admins and users.
Windows 8 and later Microsoft operating systems support a new mode called "Fast Startup." This Windows 8 setting...
Continue Reading This Article
Enjoy this article as well as all of our content, including E-Guides, news, tips and more.
helps in reducing the time it takes to boot up. It can be as helpful as regular disk cleanup for improving desktop performance.
Two sessions typically run in Windows -- a user session and a kernel session. When a user shuts down a Windows machine, all the user sessions are closed, and the kernel session is saved to the disk. When a PC starts up, the Windows boot loader (WinLoad.exe) loads the saved kernel session from the disk, which reduces the startup time.
By default, the Fast Startup mode is enabled in Windows 8 and Windows 8.1. If you need to verify this, go to Power Options and then check for the "Turn on fast startup (recommended)" option.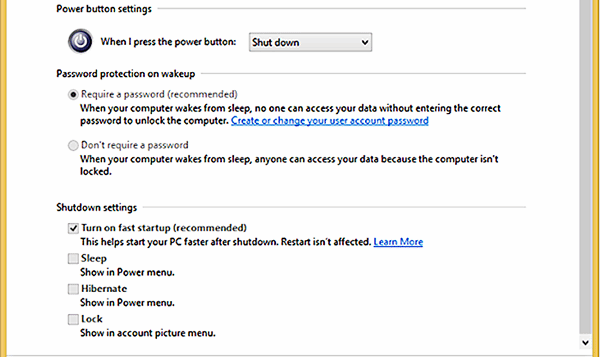 Running optimization tools
Windows drives, including system and data drives, can be optimized to improve performance. Not optimizing drives can also slow down Windows. It is because when you open and save any files, the files are saved in pieces across the hard disk, which result in fragmentation. In case an application needs to access a file, it first needs to know the location of the file on the hard disk.
Explorer.exe helps in locating all the pieces of the files, and it continues to perform the I/O operations on the hard disk unless all the pieces of the file are found. This causes a system to slow down. To resolve the fragmentation delays, Windows 8 supports optimizing drives with a built-in tool called "Optimize Drives." Although this feature is enabled and configured to execute every week, you can optimize drives manually by selecting "Defragment and Optimize your Drives" from the Start Menu.
Using Windows 8 settings
Disable some visual effects: Visual effects eat up a lot of system memory. If a user is running a Windows box just for Microsoft Excel and Word, you should disable the visual effects. To turn off visual effects, go to the Systems property, click the "Advanced" tab and then click the "Settings" button to launch the performance options window. Select the "Adjust for best performance" setting.
As you can see in the screenshot below, when "Adjust for best performance" option is selected, it unchecks all the visual effects settings. If you need some settings to still be available, select "Custom" and then check the required visual effects settings. At a minimum, you should consider unchecking the following: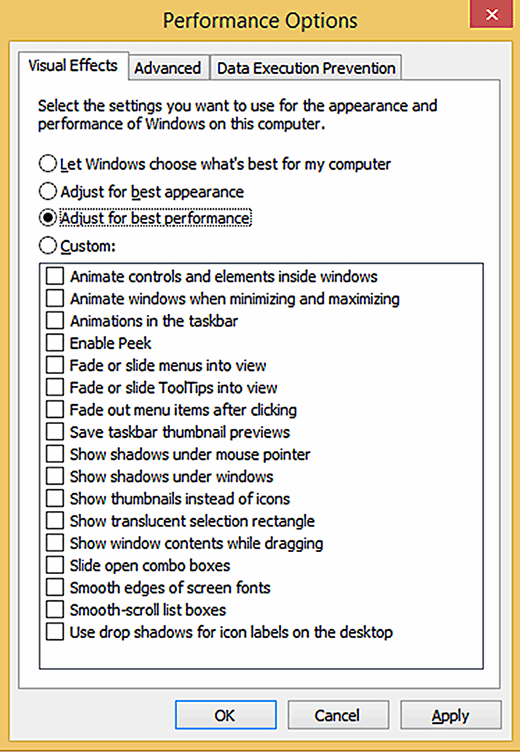 Animate windows when minimizing and maximizing
Animations in the taskbar
Fade or slide menus into view
Fade or slide ToolTips into view
Fade out menu items after clicking
Show shadows under windows
Slide open combo boxes
Disable Windows Explorer features: There are a few settings you can disable in Windows Explorer to improve Windows 8 performance when exploring the files and folders. For example, you can disable the folders and file tool tips as well as pop-up descriptions for folder and desktop items.
To do so, go to My Computer, click on the "View" menu in the Ribbon and then click the "Options" button to bring the Folder Options window. At a minimum, uncheck the following settings:
Hide empty drives in the Computer folder
Display file size information in folder tips
Show encrypted or compressed NTFS files in color
Show pop-up description for folder and desktop items
Reviewing a few simple Windows 8 settings and system tools should help devices running the OS run faster.
Next Steps
Windows 8.1 settings can affect the Start menu and Control Panel
Windows 8 DirectAccess is a VPN alternative, offers performance gains
Compare third-party malware tools with Windows 8 Defender