Evaluate
Weigh the pros and cons of technologies, products and projects you are considering.
Vista tools provide Windows error reporting for the enterprise
With Windows Vista, Microsoft created Windows Error Reporting, a tool designed to ease the burden on help desk staffs when troubleshooting workstation errors. Along with Vista's corporate-level reporting mechanism, organizations can now treat errors as non-isolated events.
Prior to the release of Windows Vista, most organizations treated workstation errors as isolated events. When an error occurred, users typically reported the error to the help desk in order to get it fixed. With the creation of Windows Vista, though, Microsoft decided to take a different approach to helping the support staff troubleshoot workstation errors.
Microsoft's new philosophy seems to suggest that errors occurring on workstations should no longer be treated as isolated events. For example, a user may have experienced that particular condition before and just didn't bother to call the help desk until now. Likewise, if a condition causes problems on one workstation, and many of the workstations are set up identically, then it stands to reason that the issue may end up being a problem for someone else as well.
Windows error reporting
In order to help your support staff troubleshoot workstation errors more easily, Microsoft has created a new mechanism called Windows Error Reporting. You can access the Windows Error Reporting console by opening the Control Panel and clicking the System and Maintenance link, followed by the Problem Reports and Solutions link. You can also access Windows Error Reporting by entering the WERCON.EXE command at the Run prompt.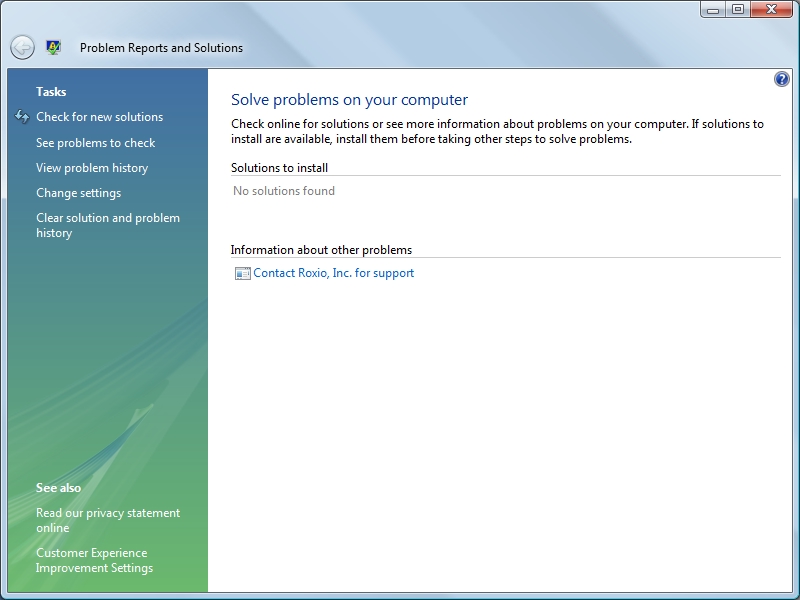 Figure A
When you open the Windows Error Reporting console, you'll see a screen similar to the one shown in Figure A. As you can see, the console's initial screen displays any currently reported issues. The Tasks list on the left side of the screen gives you several other options.
The first option on the Tasks list allows you to check for a new solution. Often, you will find that a particular issue does not have a solution at the time you discover it. The "Check for new solutions" option allows you to go back and periodically check for new patches or workarounds to specific problems.
Next on the list is the "See problems to check" option. Many times you will discover that Windows has created an extensive log of issues, but only a handful of them have been detected as true problems. This option allows you to choose which issues you want to check for available solutions. It saves time since Windows does not have to check for solutions to issues that are not really "problems."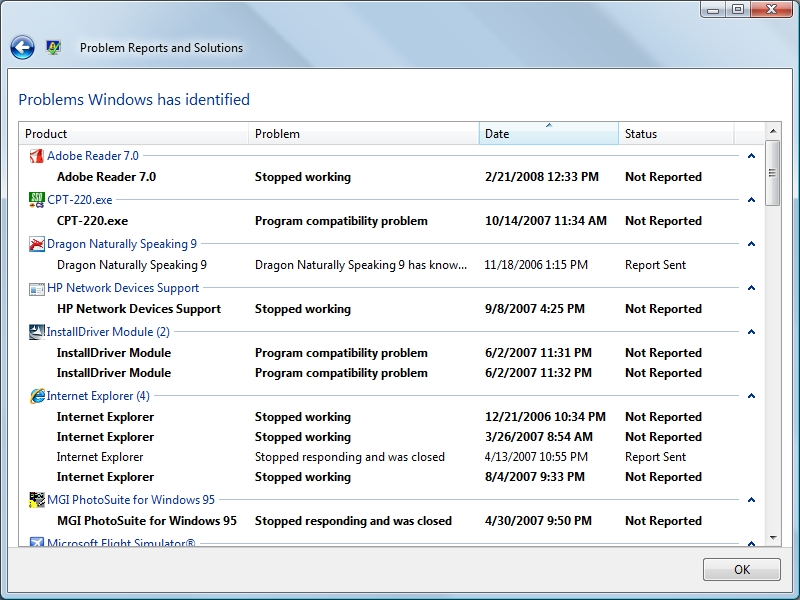 Figure B
The third option on the Tasks list deals with your problems history. When you choose this option, Windows displays a record of all of the problems it has detected and the dates that they occurred. You can see an example of such a screen in Figure B. If you click on a specific issue, Windows gives you more details about that issue, as shown in Figure C.
The "Change settings" option allows you to control whether problems are reported automatically or if the user is prompted to report the problem. Typically, users will not have the option of changing the settings because they are controlled by Group Policy.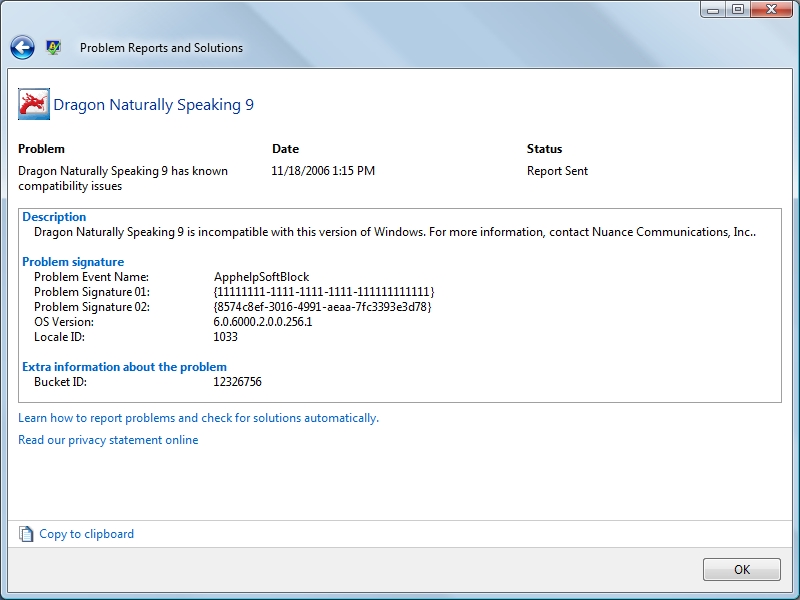 Figure C
Finally, the last option on the list allows you to clear the problems history and solutions information.
Corporate error reporting
The Windows Error Reporting console does a really good job of collecting error information on an individual PC. If you work in a large enterprise, however, it is simply impractical to collect error information in that manner. As such, Microsoft has created another tool called Corporate Error Reporting.
Corporate Error Reporting has two different purposes. First, it uses Group Policy settings to redirect Windows Error Reporting so that your information is written to a centralized server. This allows administrators to see what types of errors are being experienced on an organization-wide basis.
If you look back at Figure C, you'll see a bucket ID number associated with the event. Corporate Error Reporting maintains a counter for each bucket ID. Any time an instance of the error that is associated with a particular bucket ID is reported, the counter is increases by increments of one. Corporate Error Reporting is then able to show you which errors are the most common in your organization and how frequently those errors occur. That way, your help desk staff can spend its time working on the errors that affect the most people, rather than wasting time on obscure problems that may have only occurred once.
Corporate Error Reporting also helps protect your privacy. As I'm sure you know, Windows is designed so that information about certain types of problems can be forwarded to Microsoft for analysis. In some organizations, though, there are privacy concerns associated with forwarding that information. The Corporate Error Reporting tool allows you to be the one who decides whether information about problems gets forwarded to Microsoft or if the decision is left in the hands of the end users.
The downside to Corporate Error Reporting is that the software is only available to companies that have a volume licensing agreement. Furthermore, Microsoft no longer offers the Corporate Error Reporting software for download. To get it, you'll have to contact a Microsoft reseller.
About the author:
Brien M. Posey, MCSE, has received Microsoft's Most Valuable Professional Award four times for his work with Windows Server, IIS and Exchange Server. He has served as CIO for a nationwide chain of hospitals and healthcare facilities, and was once a network administrator for Fort Knox. You can visit his personal Web site at www.brienposey.com.
Dig Deeper on Windows legacy operating systems