ltstudiooo - Fotolia
Why IT should keep Windows 10 virtualization in mind
When considering virtualization for Windows 10, IT must understand the difference between persistent and nonpersistent VDI, as well as on-premises vs. cloud deployments.
Deploying Windows 10 is no small task, and it's important to go into the process with an open mind. IT should consider its options, including virtualization.
Windows 10 virtualization should be part of the migration conversation and testing process. One of the big benefits of VDI is that it takes corporate data off users' workstations and puts it in the data center. With Windows 10 virtualization specifically, IT professionals can use the technology for disaster recovery, business continuity and any other use case that would best support their business while better securing data.
When considering Windows 10 virtualization, it's important that IT pros understand the basics of a VDI deployment, including the type of desktops they can use and whether they want to deploy VDI on premises or in the cloud, before moving forward.
What virtual desktop deployment options are there?
When it comes to delivering virtual desktops to users, IT has two major options to choose from: persistent or nonpersistent VDI.
If IT tests its deployment properly, it can make the best decision possible around Windows 10 virtualization.
Nonpersistent VDI: If IT wants to present all its users with the same Windows 10 workstation so users start from the same image every time they reboot their workstations, then it should pick nonpersistent VDI. The base image always resets back to the golden image. IT can enable some user customizations through profile management tools or app layering, which helps balance end user needs with ease of IT management and tighter security.
Persistent VDI: If IT wants to enable users to make any changes they want to their Windows 10 workstations, then persistent VDI is the right choice. With persistent VDI, though, IT has to manage multiple OS images, but the user gets an experience almost identical to using a traditional physical device. IT pros can still put limits on exactly what users can change in Windows 10.
IT should base its nonpersistent vs. persistent desktop decision on business requirements, user needs, security requirements, deployment timeframes and costs. For example, if IT needs to create virtual desktops quickly and on a budget, nonpersistent VDI is the way to go. If users require personal desktops, however, then IT should pick persistent VDI.
Deploy VDI on premises or in the cloud?
IT pros also must consider where they will deploy their virtual desktop from, either in the cloud or on premises.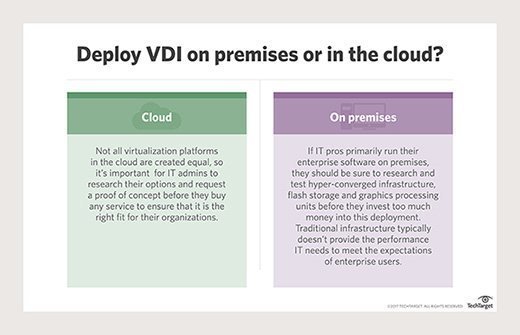 In the end, if IT tests its deployment properly, it can make the best decision possible around Windows 10 virtualization.