freshidea - Fotolia
Get started
Bring yourself up to speed with our introductory content.
Why you should back up Windows drivers and how to do it
To make sure all the extra devices users attach to their Windows desktops work right, you must ensure that the device drivers function properly. DISM and DriverBackup can both help.
Users expect the many devices they attach to Windows clients to work correctly, especially USB peripherals such as external drives, flash drives, keyboards, mice and more. That won't happen if Windows drivers aren't functioning.

Download this free guide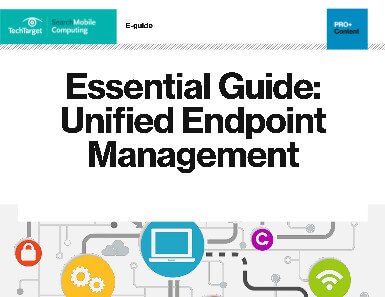 Free PDF: Your Essential Guide to Unified Endpoint Management
Download this 44-page guide to learn everything you need to know about UEM.
To make sure all these devices play nicely with users Windows desktops, you must back up, back up and back up more. Take a look at two tools you can use to back up Windows drivers -- Deployment Image Servicing and Management (DISM) and SourceForge DriverBackup.
Back up Windows drivers at the command line
DISM runs at the command line in Windows 8 and newer on the client side and Windows Server 2012 and newer on the server side. Among DISM's capabilities is a single command that backs up all the device drivers associated with a specific Windows image to a target directory. The general syntax for the command is:
DISM /online /export-driver /destination:<dirspec>
DISM: invokes the deployment image servicing and management command. The /online part tells the command to focus on the image that's currently running. /export-driver tells the command to export device drivers found in the %windir%\System32\DriverStore directory to the targeted destination. /destination: provides the targeted destination. And <dirspec>: provides a full-path directory specification as the export target. For example, providing S:\DriverBackup\ could designate a DriverBackup directory as the repository for this driver snapshot.
If you work on inactive or static Windows Server images you must substitute the /source directive for /online in the DISM command.
The target directory you specify in this DISM command must exist or the command will not execute. So before doing it for the first time, create the target directory so the drivers have a place to go.
What does DISM export?
When the DISM command executes, it produces the following output:
Exporting xx of yy – oemi.inf: The driver package successfully exported
It may actually read 32 of 40 – oem5.inf:. But when you look at the directory structure for the contents of the DriverBackup folder, you'll see a list (Figure 1).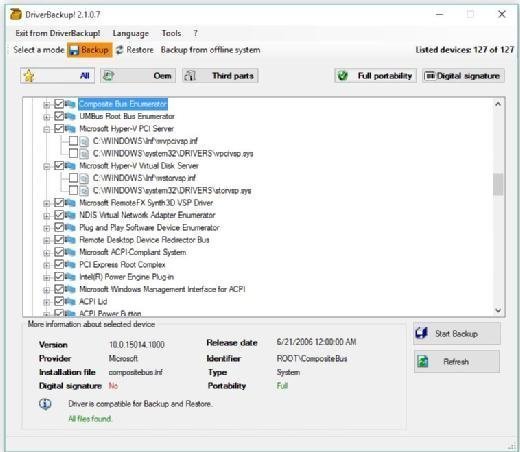 The driver names can be cryptic. In this example, one is for the Dell 2707WFP monitor on the test machine. Another is for the APC uninterrupted power supply that delivers backup power for that machine. If you must use this directory to restore a driver, the best way is to bring up your server image and let Windows Update supply the drivers it can.
You can then use Device Manager for the missing or incorrect drivers. In Device Manager, right-click the target device, select Update Driver Software, Browse My Computer for driver software and let the program pick the driver from the backup target folder (Figure 2).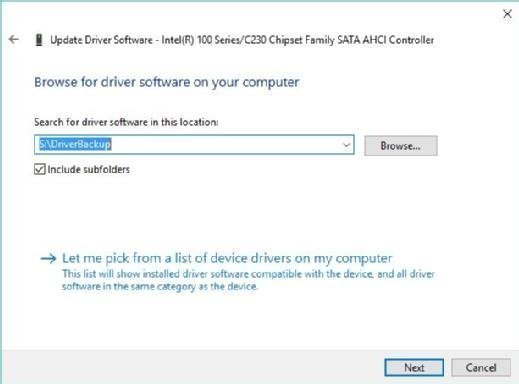 Use SourceForge DriverBackup, if you prefer an easy GUI
SourceForge's DriverBackup is a free, open source alternative to DISM that lets you back up, restore and remove device drivers from Windows clients. The program is portable and you don't have to install it on a PC for it to work. It also only provides the information you need to associate file names with devices, and vice versa. It shows detailed information from the graphical user interface (GUI) that shows drivers associated with Hyper-V (Figure 3).
The process to back up Windows drivers in DriverBackup works similarly to DISM. It backs up all drivers by default. Simply select a destination -- drive and path -- and rely on the defaults to tell you the rest. The defaults take the folder name you give them and add a machine name and date to it, then record the drivers inside that folder. You can even check a box that reads "generate files for automatic drivers' restoration" to help implement the reverse operation.

To restore a driver, click the Restore button, select a specific backup image and navigate into the device hierarchy to select which drivers you wish to restore. DriverBackup takes a little longer to run than the DISM command -- three minutes versus eight minutes on the test machine -- but it's easier to use when restoring drivers. Instead of having to fiddle around in Device Manager and run the manual driver update process, you only need to pick the drivers you want to restore by checking their boxes in the Restore GUI and clicking the Restore button in DriverBackup It does the rest automatically.
Some administrators might prefer DISM to DriverBackup because it's fast, direct and uses only built-in Windows capabilities. But if you're looking for some guidance on what you're working with, and a more user-friendly interface, DriverBackup is hard to beat. Because one is built into the system and the other is free, you can use both if you want.
Dig Deeper on Microsoft Windows 10 operating system