Windows 10 branches out with three update options
Windows 10's update format has three servicing options called branches: There's Current Branch, Current Branch for Business and Long Term Servicing Branch. Each meets different needs, so it's up to IT to decide which one is right for their shop.
With its latest operating system, Microsoft automatically delivers updates at different intervals through Windows 10 branches.
Windows 10 update branches are a product of Microsoft's decision to make Windows 10 the final OS in the Windows family. Instead of releasing another brand new OS in a few years, the company will continuously update Windows 10.

Download this free guide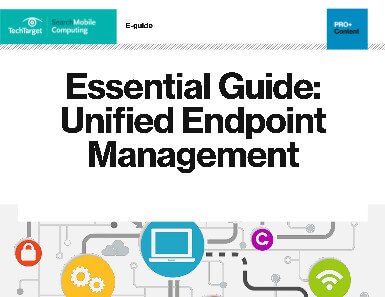 Free PDF: Your Essential Guide to Unified Endpoint Management
Download this 44-page guide to learn everything you need to know about UEM.
As a result, the days of IT administrators controlling their Windows updates have come to an end. Admins can choose a cadence for Windows 10 updates, but none of the three options -- Current Branch, Current Branch for Business and the Long Term Servicing Branch (LTSB) -- are clear cut, nor are they available to the same audiences.
Current Branch mainly for home use
Microsoft's first servicing option is called the Current Branch. It contains the latest release-worthy code fresh from the Windows 10 Insider program. The Current Branch immediately delivers Windows 10 updates to users; they do not get a choice of whether to install them or not.
Windows automatically installs the updates and then users' systems reboot, typically in the middle of the night. Current Branch is most common in non-professional editions of Windows 10, namely Windows 10 Home. The branch is always up to date unless the user disconnects his device from the Internet or shields the machine from Windows Update. Microsoft won't help with Windows 10 support on Current Branch machines that aren't up to date.
Current Branch for Business a better enterprise fit
In the enterprise world, the Current Branch for Business might be the best of the Windows 10 servicing options. Microsoft does not push critical updates, bug fixes or new features to Windows 10 devices for some time (around 90 days) with Current Branch for Business. The short reprieve gives IT shops a chance to test what's coming in their own environments, make sure line-of-business applications are compatible and avoid being guinea pigs in case a patch goes awry.
The days of IT administrators controlling their Windows updates have come to an end.
As of this writing, it's unclear what admins can do to pause further Windows 10 updates if they discover an incompatibility in their environment. Some of the time, the lag will really just serve as a buffer to make sure a poorly coded patch does not take down an entire network.
Current Branch for Business is available on Windows 10 Professional, Enterprise and Education editions. Again, Microsoft won't help with support calls on Current Branch for Business machines that don't have the latest upgrades; admins must move onto the updated branch for continued support.
LTSB the most IT-friendly
The LTSB gives admins the most control over patching, but it's still not as much control as they had in Windows 7. And the LTSB is only available to volume licensing customers running Windows 10 Enterprise. The Enterprise edition of Windows 10 can be put on the Current Branch for Business ring, but to use the LTSB branch, admins must download a completely separate ISO. The LTSB starts from a different point than the Current Branch for Business edition.
Windows 10 updates are much less frequent with the LTSB. Microsoft's goal is to push updates to the LTSB about every nine to 18 months. The update will include all the new features Microsoft added to the other Windows 10 update branches in the meantime.
Security updates will come in with more regularity, but all the other new features are left out of LTSB until the full-scale update. Admins have the same sort of deferral control over those updates that Current Branch for Business customers have. Although Microsoft is trying to rid Windows of the forklift upgrades that force admins to train their users on the new features of an OS, the LTSB updates are so large they might still have to teach them how to use it. LTSB will be supported for up to ten years.
Sorting through the Windows 10 branches
For small shops and businesses that don't buy via volume licensing, Current Branch for Business makes the most sense. If admins configure it to delay updates for as long as possible, they will remain relatively current and can mitigate the likelihood of suffering through shoddy patches.
Enterprise admins have a tougher choice. Typically enterprise IT shops wait for the first Windows service pack, but Windows 10 won't have service packs. With the new update branch format, admins have to figure out if they should wait until mid-2016 for the first update to the LTSB branch or jump on the Current Branch for Business train.