Anna Khomulo - Fotolia
Windows 8 disk cleanup is part of routine maintenance
Windows 8 and Windows 8.1 include built-in utilities for improving and maintaining performance. Start with simple Windows 8 disk cleanup practices.
End users always expect their computers to run faster and faster. Several third-party tools can help optimize Windows...
Continue Reading This Article
Enjoy this article as well as all of our content, including E-Guides, news, tips and more.
8 machines to run faster. These products tweak the Windows configuration, which results in performance improvements. For example, CCleaner and nCleaner fix performance problems by performing thorough checks on the system, but most users do not realize that there are some great built-in tools for Windows 8 disk cleanup that can keep their systems healthy.
Undoubtedly, users will benefit from regular PC maintenance tasks such as removing unnecessary applications, checking for viruses using good antivirus software and limiting the number of startup items. In addition, Windows 8 and later operating systems offer a few common tools that can improve overall performance.
I have seen many users run whatever fixes have been advertised on the Internet and then surprised when their desktops or laptops are messed up. Before optimizing Windows 8 and later OSes to run faster, follow these steps:
Always perform routine disk cleanup, which helps you clean your system of unwanted data (files/folders).
Run System Maintenance Troubleshooter or a similar tool to find and fix any problems.
Enable the new features of Windows 8 and Windows 8.1, which improve performance.
Run the optimization tools.
Tweak Windows configuration by using the system tools.
Use Registry Editor or similar tools to tweak the Windows configuration.
Use the built-in Performance and Reliability Monitoring Tool to find and measure hardware and software problems on your system.
Performing Windows 8 disk cleanup activities
The first thing you need to do when you're trying to find what is slowing down a Windows desktop is to make sure that disk cleanup has been performed. This is necessary because disk cleanup removes the temporary files that are left after installing an application. Some applications remove the temp files, but many fail to do so.
In addition, you should always perform a Windows 8 disk cleanup before optimizing drives. Remove unnecessary applications, free up space by deleting unneeded files, empty the recycle bin and let the disk cleanup tool search for files that can be removed. Type "disk cleanup" in the Start menu to see the options for performing disk cleanup tasks.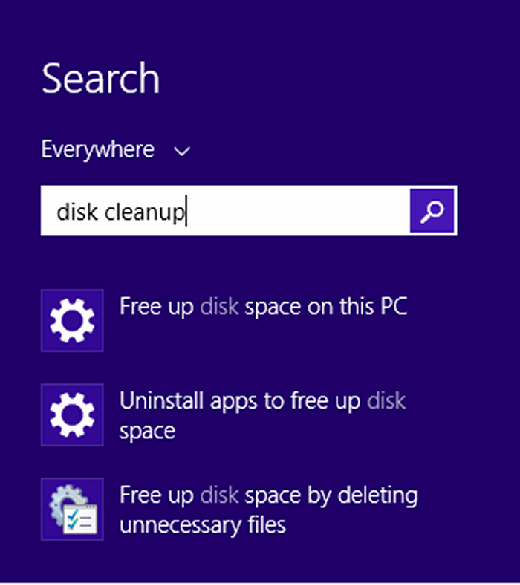 Selecting "Free up disk space on this PC" leads to a tool that shows the disk space used by documents, media files, etc. Selecting "Uninstall apps to free up disk space" provides the list of applications installed on the PC and enables you to remove them with a few clicks.
"Free up disk space by deleting unnecessary files" is actually the Windows 8 Disk Cleanup tool. This lets you free up some space on your PC by reviewing files that you can safely delete. This tool searches for temporary Internet files, downloaded program files, Recycle Bin files and Windows temporary files.
Windows 8 Disk Cleanup also lists optional Windows components that are not in use, setup log files, Windows error reporting files and system restore points. Run this tool once a week.
When you install applications on a PC or laptop, the setup program modifies the Windows registry so that applications can start automatically when the Windows starts. It might not be necessary for many programs to run at startup or in the background. Some apps add an icon in the taskbar, so it is easy for users to launch them.
Understand, however, that whatever you run in the background also uses memory and processing power. Items that are marked automatically load when Windows starts. There are two places where you can check which items load when the Windows starts: Task Manager > Startup and the Startup folder.
In earlier versions of Windows, you could use MSConfig.exe and remove the startup items that you deem unnecessary. In Windows 8 and later OSes, Microsoft provides the functionality to enable and disable the startup items in the Task Manager.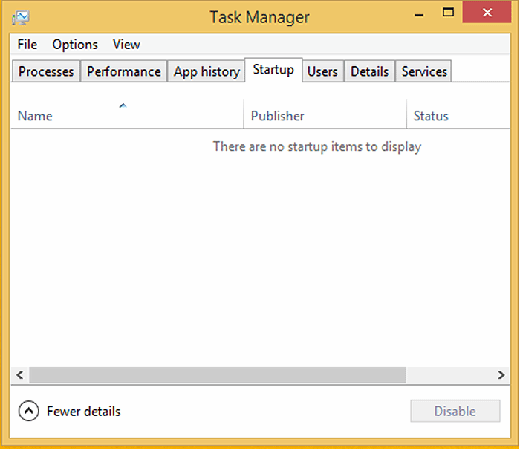 All you need to do is to select an item in the list and then click "Disable" to prevent an item from loading the next time Windows starts. To remove the items from the Startup Folder, navigate to C:\Users\%UserName%\AppData\Roaming\Microsoft\Windows\Start Menu\Programs\Startup.
Running the System Maintenance Troubleshooter
Starting with Windows 7, Microsoft introduced the System Maintenance Troubleshooter. This tool performs common maintenance tasks to find and fix anything that might cause Windows to operate slowly. It automatically frees up disk space by removing error reports, troubleshooting history older than one month and fixing broken shortcuts.
System Maintenance Troubleshooter also repairs hard disk volume errors such as bad sectors, lost clusters, cross-linked files and directory errors, if any. By default, this utility is configured to run automatically and remind you when it can help fix the problems it finds. However, you should still run System Maintenance Troubleshooter once per day. You can do so by launching "Run Maintenance Tasks" from the Control Panel.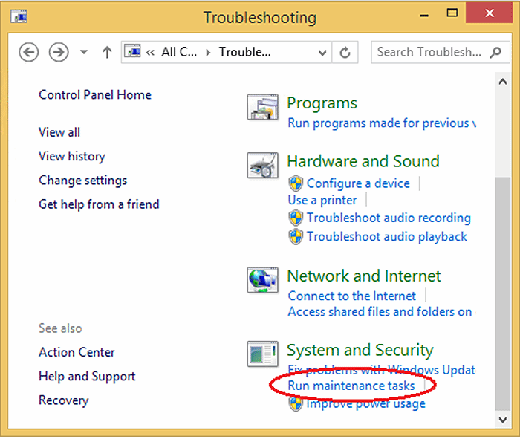 Your PC should run a little faster after you run Windows 8 Disk Cleanup and the System Maintenance Troubleshooter. In addition, there are other a few more ways to improve performance, which I'll explain in my next article.
Next Steps
Modify Windows 8 configuration, UI with Group Policy settings
Know two ways to remotely refresh Windows 8 Group Policy settings
Windows 8 Task Manager includes improved features
Take advantage of the Windows 8 Start menu and admin tools