 BACKGROUND IMAGE: iSTOCK/GETTY IMAGES
Evaluate
Weigh the pros and cons of technologies, products and projects you are considering.
Windows 8 tools build on native Windows 7 utilities with new capabilities
New and updated Windows 8 tools can help admins and users. Windows 8 utilities include functions for backing up and restoring systems.
Like every previous version of Microsoft's operating system, Windows 8 includes its share of native tools. Most of these Windows 8 tools are left over from Windows 7. This shouldn't be a big surprise, since Windows 8 has been widely described as "Windows 7, only better." There are at least a few new Windows admin tools that are baked into the OS.
File History
Windows 8 includes a native file-backup tool called File History. File History works similarly to Apple's Time Machine in that it allows you to revert to a previous version of a file.
You need to know two things about File History before you set it up. First, Microsoft requires a second hard disk as a safety feature because if file-versioning data were stored on the same drive as the protected files, then the loss of that drive would also mean the loss of the backup. Microsoft generally recommends that you save file history data to an external hard drive or a network share.
The other thing that you need to know about the File History feature is that it does not offer comprehensive volume-level protection. File History protects libraries, contacts, favorites, SkyDrive and your desktop. If you need to protect another location then you can add the location to a library or create a new library.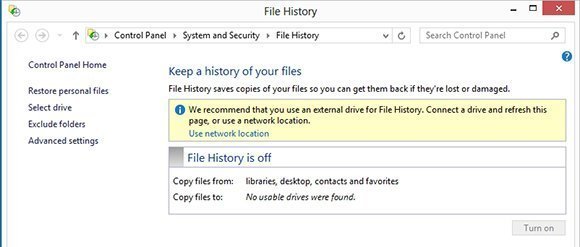 Figure 1. You can enable File History by clicking on the Turn On button.
Enabling the File History feature is easy. Move the mouse to the right side of the screen to reveal the so-called charms. Click on the Search charm, and then type "File History." After doing so, click on Settings, and then click on File History. You can enable File History by clicking the Turn On button, as shown in Figure 1.
Native ISO Support
Windows 7 was the first Windows operating system to allow ISO files to be burned to a disc without the need for DVD-authoring software. Windows 8 still supports burning an ISO to disc, but now if you right-click on an ISO file, the shortcut menu also includes a Mount option. Choosing this option causes the ISO file to be mounted as a virtual disc.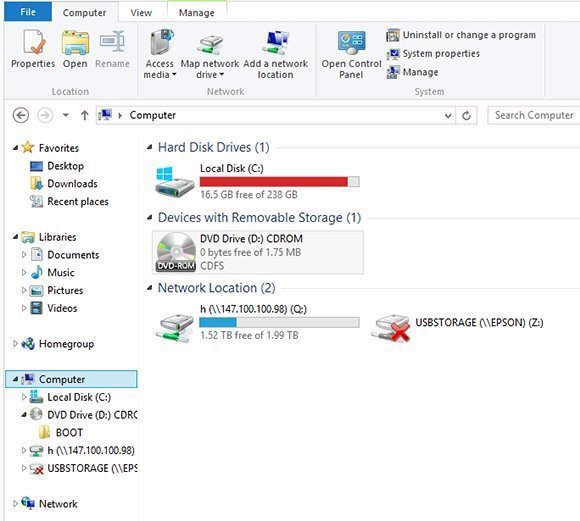 Figure 2. The DVD drive is actually an ISO file that has been mounted.
For example, if you look at Figure 2, you will notice a DVD drive with a CD-ROM in the drive. However, the screen capture was taken on an ultrabook that does not have a DVD drive. The DVD drive shown in the figure is actually an ISO file that has been mounted.
Sync Settings
Another cool new tool is Sync Settings. As you may have heard, Windows 8 allows users to log in with a Microsoft account (such as a Hotmail account or a Microsoft Live account). Upon doing so, Windows synchronizes information from sources such as Hotmail, SkyDrive and even Xbox Live.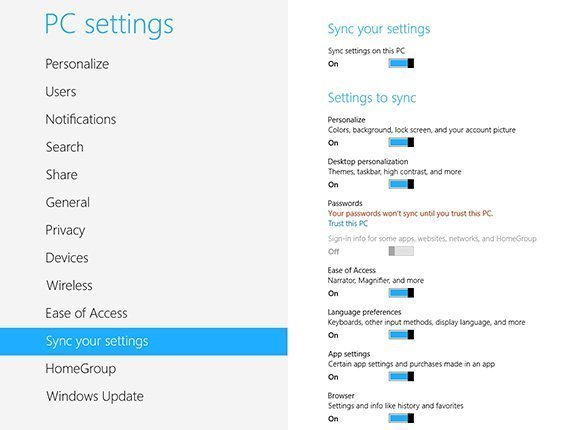 Figure 3. The Sync Settings tool lets you control what to synchronize across Windows 8 PCs.
However, you can also use a Microsoft account to ensure a consistent experience as you move from one computer to the next. This is where the Sync Settings tool comes into play. The Sync Settings tool allows you to control which elements of your user interface get synchronized. For example, you can choose to synchronize your desktop personalizations and language settings across Windows 8 PCs. You can see what the Sync Settings tool looks like in Figure 3.
The Sync Settings Windows admin tool is well hidden. To access it, you must move the mouse to the right side of the screen, click the Search charm, and then type "Sync Settings." Next, click on Settings followed by Sync Your Settings. This will cause the Sync Settings tool to open.
The Reset Tool
Anyone who has ever had to support Windows knows that there are plenty of problems for which the solution is to reinstall Windows. In the past this usually meant digging out the installation media and the product key and spending an hour or two working through the reinstallation.
A new Windows 8 tool allows you to reset a PC to its Windows 8 defaults with just a few mouse clicks. If you don't want to fully wipe the PC's hard drive, you can instead do a refresh, which reloads Windows, but preserves the user's data and settings. It is worth noting that the refresh will retain apps that were acquired through the Windows Store, but will not preserve other applications.
To access the Reset and Refresh settings, move the mouse to the right side of the screen and click the Settings charm. Click on Change PC Settings and then click on the General tab. The Refresh and Reset options are found on this tab, as shown in Figure 4.
Windows 8 utilities include all of the tried-and-true tools that were included with Windows 7, as well as a few new capabilities. These Windows 8 tools allow you to do things such as automatically back up files, mount an ISO file, or reload the OS with ease.
Dig Deeper on Windows 8 and 8.1