 BACKGROUND IMAGE: iSTOCK/GETTY IMAGES
Evaluate
Weigh the pros and cons of technologies, products and projects you are considering.
Guide to converting from Windows XP to Windows 7
While Windows 7 won't be difficult for users and administrators familiar with Vista to learn, power users and admins used to Windows XP will find this conversion guide helpful.
The official release to manufacturing (RTM) of Windows 7 occurred in August for select groups, and it's coming up this month for OEMs. There is a lot of excitement about the new features, fixes and capabilities of this operating system. In addition, there are a lot of new ways to do old operations. This will affect administrators, IT staff members and users in general and will require climbing a learning curve to get productive again. If you are currently using Vista, you're in luck because there haven't been a lot of changes between Vista and Windows 7.
However, for the many users coming from XP, it's a huge change. In fact, you may have looked at Vista and retreated to Windows XP. Not a bad idea really, but now it's time to move on.
This handy conversion guide will help you find those things you used to do so easily. I'm not saying I like the changes and if it were up to me, Microsoft would just leave the desktop user interface alone and quit forcing us to be retrained every time there is an upgrade -- but it's not up to me.
The conversion guide is intended for power users and administrators to find stuff they need -- not necessarily for end users. It is presented in a simple table here and describes various operations, where to find them in XP and where to find them in Windows 7. Note that many Windows 7 functions also work in Vista -- but not all. If you are a Vista user, you have noticed the power of the search window in the Start Menu (see below).
Figure 1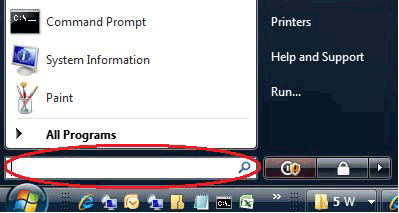 Instead of fumbling through multiple menus or trying to remember the .exe or .msc name, you can just search for it, and a list of apps that match the search show up.
Windows 7 is even better. Many things that could not be found in Vista search are found in Windows 7 search. For instance, in Figure 2 below, we see the results of a search on network connections.
Figure 2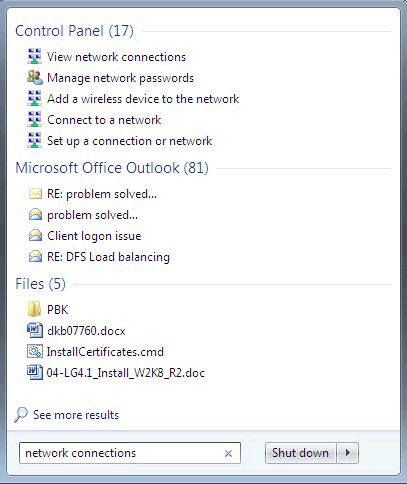 The options include the following:
View Network Connections
Connect to a network
Set up a connection or network
But it also finds all email messages and files that contain that string. Furthermore, it searches as you type, so there's no need to enter the whole string.
Figure 3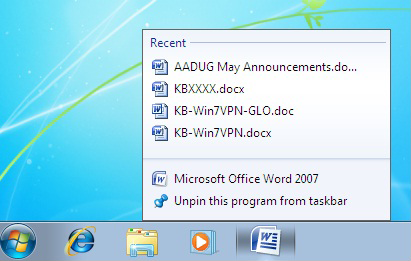 Find common enterprise desktop operations, their Windows XP and Windows 7 commands, and related Windows 7 search strings below.
Operation
Windows XP
Windows 7
Windows 7 Search string
Execute Programs, go to directories, shares, etc.
Start – Run
Search bar - Click Start button and right above the Start button is a "Start Search" box. You can use this as you did Start -- Run or search for a feature such as "Folder Options". Very powerful as it prevents having to click thru a lot of menus to find something.
N/A
Network connection Properties
Right click My Network Places -- right click Local Area Connection (or the connection you want) -- Select "Properties"
Notification Area (NA) -- click on network icon -- Open Network and Sharing Center (see Fig 1). From left pane -- "Change adapter Settings" -- right click Local area connection Properties.
Start -- Search -- "Network Connections" Right click Local Area Connection (or the network connection you want), and select Properties.
Wireless Configuration
Start -- Settings -- Network Connections Select wireless connection icon.
Notification Area (NA) -- click on network icon -- Popup menu shows all detected wireless networks. Right click on one to get properties such as authentication SID, WEP key, etc.

To get to the wireless adapter, see Network Connection Properties above.

Note in the Network and Sharing Center, left pane -- you can select Manage wireless networks.

Start -- Search -- Wireless. Choose from Add a wireless device, manage wireless networks, view devices and printers, etc.
Windows Firewall Settings
Network connection properties -- Right click -- Properties -- Advance Tab -- Click Windows Firewall Settings
Control Panel -- System and Security -- Windows Firewall
Start -- Search -- "Windows Firewall" (select from search results -- two firewall options)
Windows Firewall Settings with Advanced Security
Note: This provides config for domain, private and public firewall profiles
Not available
Control Panel -- System and Security -- Windows Firewall -- left pane select Advanced settings.
Search on Windows Firewall and select Windows Firewall with Advanced Security.
User Account Control
Note: This is annoying to users but good security. Win7 has 4 settings where Vista was on or off.
Not available
Control Panel -- Action Center -- "Change User Account Control Settings"
Search -- "User account control" then select "Change user account control"
ADD/Remove Programs
Start -- Settings - Control Panel --Add or Remove Programs
Control Panel – Programs
Search -- Programs. Lots of options -- Programs and features, add or remove programs, show which programs are installed on your computer, etc.
Configure Windows Updates
Right click on My Computer -- properties (or control panel -- system properties) -- Automatic Updates tab.
Control Panel -- System and Security Select Windows Update. Also can select Action Center, expand Maintenance -- and see if Updates are configured.
Search -- Windows Updates -- Lots of options:

View recommended actions
Check for updates
Windows update

Recently used Documents
Start – Documents
Windows 7 tracks recently used documents by application, and they're exposed by right-clicking the icon in the taskbar. That is all the recent Word docs will be exposed via the Word Icon (see Figure 2). Pin the app's Icon to the start menu or task bar to keep it available.
N/A
Anti Virus settings, Firewall settings, Windows Update settings
Various -- described in this table
Control Panel -- Action Center. One stop shopping for all security related settings, warnings, etc.
Search -- Action Center
Remote Desktop Connection
Start -- Programs -- Accessories -- Remote Desktop Connection
Start -- All Programs -- Accessories -- Remote Desktop Connection
Search -- remote desktop connection (entering just "remote" will list the RDP option at the top of the search list)
Administrative Tools
Start -- Programs -- Administrative Tools
Start -- All Programs -- Administrative Tools
Search -- Administrative tools. Actually you can just type Admin and the search will display Administrative tools
Command prompt
Start -- Run -- "CMD"
Start -- Search – CMD
Start -- Search – CMD
Create folder share
Right click on My Computer -- Map network drive. Also Explorer window -- tools -- map network drive
Start -- right click on My computer -- Map network drive Explorer Window -- select Share With on explorer tool bar, select Specific People, select users to share with and permissions
Sorry -- haven't found this one yet!
Local Groups and users
Right Click My Computer - Manage -- Users and Groups
Start - Right click - computer -- Manage -- select Users and Groups
Search -- Groups -- select "Edit Local users and groups"
Device Manager
Right click My Computer -- Properties (or control panel -- system) - hardware tab -- Device Manager button
Right click Computer -- Properties or control panel -- System and Security - Under System, select Device Manager
Start -- Search -- Device Manager
System Information
Start-Run- MSINFO32
Start- Search -- MSINFO32 (even on x64)
Start -- Search -- MSINFO32
Disk Management
Right click My computer -- Manage -- Disk Management
Right click My computer -- Manage -- Disk Management
Search- Diskmgmt.msc
Performance Monitor
Start-Programs-Admin Tools – Performance
Start-Programs-Admin Tools – Performance
Start -- Search – Perfmon
Defrag
Start -- Programs -- Accessories - System Tools- Disk defragmenter
Start -- Programs -- Accessories - System Tools- Disk defragmenter
Search – Defrag
Event logs/viewer
Start-Run -- Eventvwr.msc
Start-Programs -- Administrator tools -- Event Viewer
Start-Programs - Administrator Tools- Event Viewer Or… Start-Search Eventvwr.exe or .msc
Access a shared folder
Start-Run-servershare
Start-Search servershare
Start-Search servershare
Command line Tools
NET commands, support tools, etc
All NET commands, support tool commands, etc. work. Many support tools are built in to Win7 -- such as NLTest.
n/a
Dig Deeper on Microsoft Windows 7 operating system