Manage
Learn to apply best practices and optimize your operations.
Step 1: VMware versus Microsoft Virtual PC
Virtual machines are a great way to maximize your hardware investments, but they can also help you secure your client OS. According to contributor Brien M. Posey, you can run Internet Explorer on a virtual machine to prevent any viruses or spyware from corrupting your OS. This guide explains how to set up a VM and run IE on it.
In case you are not familiar with the concept of a virtual machine, a virtual machine is a software application that is able to run an entire operating system within a self-contained environment on top of Windows. For example, if you look at Figure A, you will see the Windows XP desktop. If you look more closely, though, you will notice Windows running within a window. It's a copy of Windows that is running within a virtual PC. The virtual PC's operating system has no idea that it is running within a virtual PC. In fact, the installation process is identical to what you would normally go through when installing Windows. Of course, I used Windows XP for this particular installation. I could have used any operating system that I wanted, including Linux.
Figure A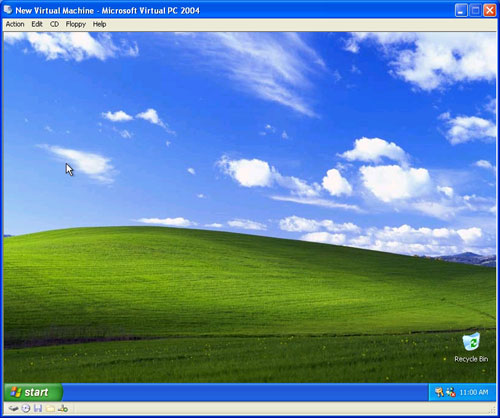 This is what a virtual PC looks like.
In Figure A, the virtual PC is running on top of a product known as Microsoft Virtual PC 2004. It is a Microsoft product that sells for $129. Microsoft also has a similar product that is intended for use on servers, called Virtual Server 2005 R2. Believe it or not, Virtual Server 2005 R2 is free for anyone who owns a Windows Server 2003 license. Virtual Server 2005 R2 can also run on top of Windows XP, but only in non-production environments. You can download Virtual Server 2005 R2 on the Microsoft site.
Microsoft isn't the only game in town when it comes to virtual machines. A company named VMware has been making virtual computer products for far longer than Microsoft. A copy of VMware Workstation sells for $199. VMware also sells a virtual server product that is available for free.

Running IE on a virtual machine

Home: Introduction
Step 1: VMware versus Microsoft Virtual PC
Step 2: Deploying Microsoft Virtual PC
Step 3: Setting up Internet Explorer

ABOUT THE AUTHOR:
Brien M. Posey, MCSE, is a Microsoft Most Valuable Professional for his work with Windows 2000 Server and IIS. He has served as CIO for a nationwide chain of hospitals and was once in charge of IT security for Fort Knox. As a freelance technical writer, he has written for Microsoft, TechTarget, CNET, ZDNet, MSD2D, Relevant Technologies and other technology companies. You can visit his personal Web site at www.brienposey.com. .
Copyright 2005 TechTarget