Manage
Learn to apply best practices and optimize your operations.
Step 2: Deploying Microsoft Virtual PC
Virtual machines are a great way to maximize your hardware investments, but they can also help you secure your client OS. According to contributor Brien M. Posey, you can run Internet Explorer on a virtual machine to prevent any viruses or spyware from corrupting your OS. This guide explains how to set up a VM and run IE on it.
Now that I have talked about what a virtual computer is and where to get the software, I want to show you how the setup process works. For the purposes of this article, I will be using Microsoft's Virtual PC, which is more out of personal preference than anything else. VMware is an outstanding product that works just as well.
Virtual PC uses a very simple installation wizard that is the same as the one used in many other Microsoft products. When the installation completes, and Virtual PC is up and running, you will see a console that's similar to the one shown in Figure B.
Figure B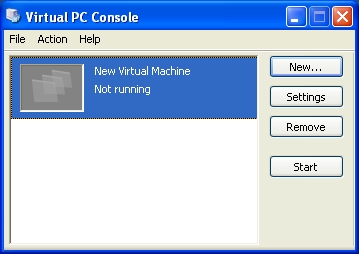 This is the main Virtual PC console.
In the figure, you can see that there is a "New Virtual Machine" listing displayed within the console. Virtual PC doesn't give you a virtual machine by default. The virtual machine that is listed is the Windows XP virtual machine that I showed you in Figure A.
If you wanted to create a new virtual machine, though, all you would have to do is click the New button. This will start the New Virtual Machine wizard. Click Next, and a screen asks you if you want to create a virtual machine, use the default settings to create a virtual machine or add an existing virtual machine, as shown in Figure C.
Figure C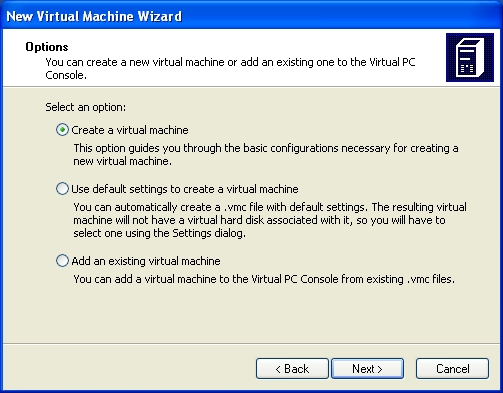 If you are using a common operating system, such as Windows XP, then it's best to select the Create a virtual machine option. Click Next and you will be asked to enter a name for your new virtual machine. You can call the machine anything you want, but it's best to give it a descriptive name if you are going to be running more than one machine.
In the last paragraph, I mentioned that if you are running a common operating system, then it is best to select the Create new virtual machine option. I said that because when you click the Next button, you are presented with a list of operating systems to choose from. When you select an operating system, you are not installing the operating system. What is happening is that Virtual PC knows the necessary hardware requirements for each listed operating system, and it is able to allocate the proper hardware to the virtual machine without you having to do it manually. Hardware allocation is important because the virtual machine completely isolates itself from the underlying Windows operating system. As such, it needs to reserve RAM for itself and create a virtual hard disk.
Click Next, and you will be asked if you want to allocate the recommended amount of RAM or if you would like to make a manual adjustment to the allocated memory. Make your selection and click Next. Then you will be asked if you want to use an existing virtual hard disk or create a new virtual hard disk. Since this is the first virtual machine that you have set up, you must create a new virtual hard disk.
Click Next and you will see a dialog box asking you to confirm the path to the virtual hard disk. The virtual hard disk is nothing more than a file on your machine's hard drive that the virtual machine uses as its hard drive. A virtual hard disk file ends in the .VHD extension. Pay attention to the path that you use, because you will need it later on.
Click Next, followed by Finish and the new virtual machine will be created. To run the new virtual machine, just select it from the console shown in Figure B and click the Start button (Virtual PC's Start button, not the Windows Start button). You are now free to install Windows in the usual manner.

Running IE on a virtual machine

Home: Introduction
Step 1: VMware versus Microsoft Virtual PC
Step 2: Deploying Microsoft Virtual PC
Step 3: Setting up Internet Explorer

ABOUT THE AUTHOR:
Brien M. Posey, MCSE, is a Microsoft Most Valuable Professional for his work with Windows 2000 Server and IIS. He has served as CIO for a nationwide chain of hospitals and was once in charge of IT security for Fort Knox. As a freelance technical writer, he has written for Microsoft, TechTarget, CNET, ZDNet, MSD2D, Relevant Technologies and other technology companies. You can visit his personal Web site at www.brienposey.com. .
Copyright 2005 TechTarget