Evaluate
Weigh the pros and cons of technologies, products and projects you are considering.
Step 5: Choose tools to clean up spyware
Good news: Since spyware has become so prevalent, so have a great many antispyware tools.
The good news is that since spyware has become so prevalent, so have a great many antispyware tools. Even better, the best such tools are free for personal use and they are kept up to date thanks to the tireless work of many contributors.
Spybot - Search & Destroy was one of the first and is still among the best antispyware tools. Aside from scanning for and removing thousands of known spyware applications, it also has a slew of utilities for locking down the system against future attacks. Beginners can clean their system with the push of one button, and expert users can pull detailed information about what may still be hiding and use that to do further surgery.
Lavasoft's Ad-Aware exists in both free and payware versions, but the free personal edition is widely regarded as the "other" best antispyware tool. It doesn't have the breadth of tools that Spybot - Search & Destroy does (at least not in the freeware version), but it generally cleans a broader range of problems and its scanning engine gets updated more frequently.
If you're a novice user and just want to do some kind of cleanup, use Ad-Aware first. If you're more experienced, or have the support of a computer guru, get Spybot. Use that in beginner's mode first to do a basic cleaning, then switch to advanced mode to see what else you can uncover.
Microsoft has also released a beta-test version of its AntiSpyware, which has a number of systems analysis and cleaning tools, and allows the user to submit suspected spyware to Microsoft for analysis.
Finally, a number of antivirus packages now recognize and deal with spyware as a subclass of virus -- a movement which has frankly been long overdue. (Check out Norton Internet Security 2005 AntiSpyware Edition and Trend Micro Inc.'s PC-cillin.)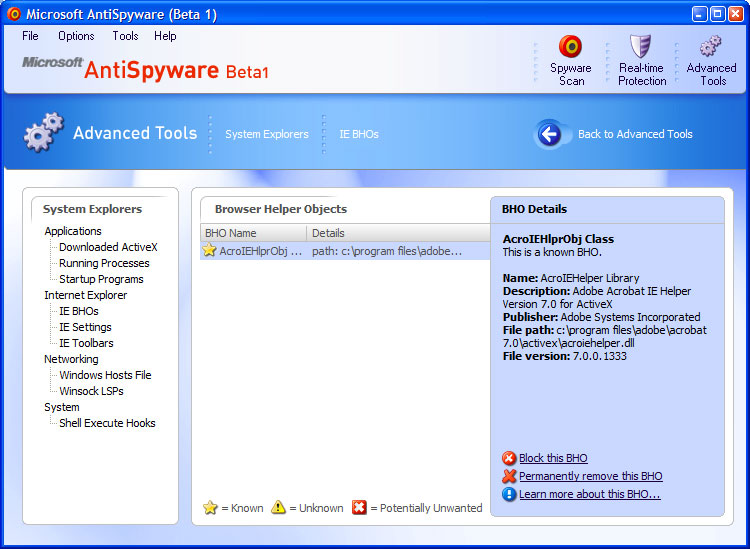 How to remove spyware

Home: Introduction
Step 1: Get familiar with spyware now if not already
Step 2: Know where spyware comes from
Step 3: Recognize how spyware acts
Step 4: Understand what damage spyware can cause
Step 5: Choose tools to clean up spyware
Step 6: Use these advanced techniques to clean up spyware
Step 7: Install service packs to prevent spyware infections
Step 8: Take additional initiatives to prevent spyware infections
Step 9: Plan ahead for new spyware tactics
ABOUT THE AUTHOR:
Serdar Yegulalp
Serdar Yegulalp is the editor of the Windows 2000 Power Users Newsletter. Check it out for the latest advice and musings on the world of Windows network administrators -- and please share your thoughts as well!
Copyright 2005 TechTarget
Dig Deeper on Enterprise desktop management